Moira mother's anguish over parallels with Sarah Everard case
By Paul O'Hare
BBC Scotland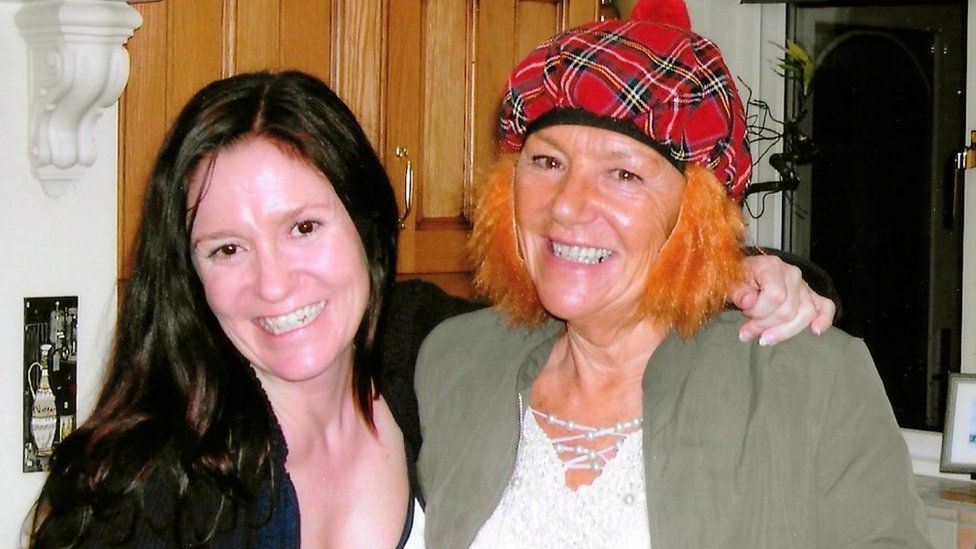 The mother of a woman who was abducted and murdered in Glasgow has expressed her concern for Sarah Everard's family.
Bea Jones said she had been left "distressed" by the similarities between the case and what happened to her own daughter, Moira, in 2008.
And she has urged the public to keep Sarah's loved ones in mind.
Bea wrote: "We send love to them all and wish them all the strength they need to get through all the dark days ahead."
Moira Jones was randomly abducted yards from her home and forced into nearby Queen's Park, where she was raped and beaten to death.
Slovakian national Marek Harcar was jailed in 2009 for the murder and the judge set the punishment part of his life sentence at 25 years.
Lord Bracadale said the crime had "shocked the nation" and told Harcar: "Your conduct that night reflects a level of wickedness very rarely encountered."
In a bid to cope with her loss, former teacher Bea wrote a harrowing diary, which last year featured in BBC Scotland documentary The Dark Shadow of Murder.
Bea, from Weston, Staffordshire, decided to write a letter outlining her fears about the Sarah Everard case after receiving multiple media approaches for comment.
Ms Everard, a 33-year-old marketing executive, vanished as she walked home alone in Clapham on 3 March. Her body was found a week later in Kent woodland.
Bea wrote: "We have been very distressed by what has happened to Sarah, similar in many respects, to Moira's ordeal.
"I really could not face talking about this and thought that perhaps one open letter would suffice."
She said her main concern was for Sarah's family and loved ones.
She wrote: "They are totally devastated and bewildered and vulnerable. They cannot fully take in what has happened and the permanence of what has occurred.
"They have experienced nightmare on top of nightmare as events have unravelled and their beautiful missing daughter became another murder victim. And there seems no end to it."
Bea says she can understand the reaction and response from women nationwide to the shocking crime and believes Sarah's family may have been comforted by the thought that "so many were grieving with them".
But she continues: "Now it has all escalated into a media frenzy more representative of individual anger than of shared grief.
"I am very concerned that events have developed to such an extent that those who matter most, Sarah and her family, are being totally swamped and further traumatised by what is going on around them, adding trauma to trauma.
"How can they cope at all? There is only so much that a head can absorb and a heart can cope with and they have so much more to find out in the weeks and months ahead as dreadful details of Sarah's death are revealed to them."
Bea says the family need to be protected from media intrusion and then turns her thoughts towards Sarah's mother, whom she says will have a head full of questions about what happened to her daughter and what she went through.
Drawing on her own experiences, she lists several, including: "Did she know how very much we loved her?"
Bea continues: "There are no answers to these questions, there never will be, but she will keep on asking them, over and over torturing herself. I ask them still - not so often but after 13 years I ask them still.
"Sarah's mum needs time and space to ask them too, to run all sorts through her head before an avalanche of other information descends.
"Her family have lived with the joy of Sarah for 33 years and the loss of that joy will affect them for the rest of their lives. It will be a long time before they can even get past the trauma, to start processing the awfulness of it all and being able to grieve. There really are no words to describe that awfulness."
As part of the nationwide events, ribbons and messages have been tied to the gates of Queen's Park including many which mention Moira, 40, by name.
First Minister Nicola Sturgeon also paid tribute to the sales executive on social media at the weekend and said she thought of Moira every time she walked through the park in the south side of the city.
Bea said she had been moved by the fresh messages of support for her "darling girl", who moved from London to Glasgow in 2003.
The campaigner has previously described how she cannot bear to say the name of the man who killed Moira.
Bea also called on the media to focus on Sarah Everard as opposed to Met police officer Wayne Couzens, who is accused of murdering and kidnapping the marketing executive.
She concludes her letter by pledging to continue to support those who have been bereaved by violence and urges the public never to forgot the pain they go through.
She wrote: "We frequently read and hear of murder cases in the news but it is rare indeed for us to read of the plight of those left behind, whose lives that are changed forever by the violent death of a loved one."
Related Internet Links
The BBC is not responsible for the content of external sites.