Old Firm derby: Major police operation as fans told 'stay at home'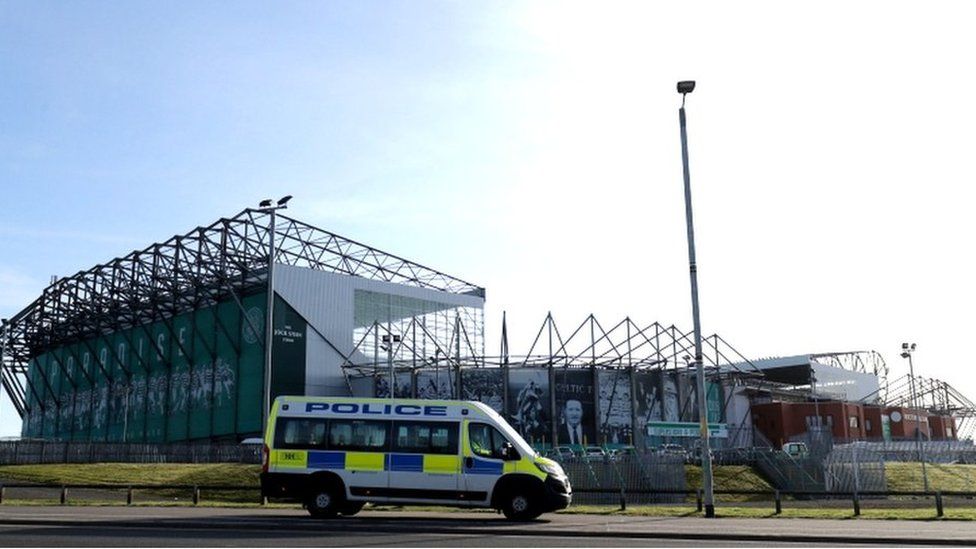 Large numbers of police remain on standby in Glasgow as Celtic and Rangers fans were told to stay at home to watch the Old Firm derby.
Assistant Chief Constable Bernard Higgins said officers were ready to be deployed to prevent a repeat of celebrations by fans two weeks ago.
Thousands of Rangers supporters broke lockdown rules to gather at Ibrox Stadium and Glasgow's George Square.
Police Scotland warned there would be arrests if the advice was ignored.
The match, which took place behind closed doors at the Celtic Park stadium, ended in a 1-1 draw.
Fans had been told by both police and their own clubs to stay home to avoid putting each other, members of the public and frontline police officers at risk.
Assistant Chief Constable Higgins told the BBC: "For the past week we have been heavily engaging with the fans groups - sending out a consistent message to stay at home. The response has indicated this is what they will do."
He said the potential for fans to gather illegally was there, but that a "significant policing operation" was in place to deal with that.
He said: "Hopefully we won't have to deploy the assets we have available."
He issued a warning: "If you come out to Celtic Park, George Square, Ibrox Stadium or anywhere else in Glasgow on Sunday, be prepared to be engaged by my officers. We will encourage you to leave and if you don't heed that warning then potentially you are opening yourself up to being arrested."
He said that the policing of a major event which had no fans formally attending was still new to police, but that plans were based on intelligence from previous matches and certain risk groups.
Officers had also worked with both sets of supporters who were asked to "spread the word" on the stay-at-home message to their networks and social media followers.
He said that there was "no doubt" what police wanted fans to do and should they ignore the warnings, plans were in place to deal with that.
The Celtic v Rangers league game was at risk of postponement after large numbers of Rangers fans breached Covid lockdown rules.
Officers made 28 arrests following the mass gatherings and also handed out fixed penalty notices for offences including assaulting police officers, sectarian-related breaches of the peace, breaking Covid rules and the use of pyrotechnics.
The Parkhead league fixture was only given the go-ahead on Friday.
Justice Secretary Humza Yousaf said the decision to proceed followed "extensive engagement" with the clubs, the SPFL, Police Scotland and Glasgow City Council.
Assistant Chief Constable Higgins said fans should think beyond potential repercussions for the clubs if anything went wrong.
He said: "This isn't about a single game of football. It's not even about the next Old Firm game at Ibrox. It's about not jeopardising and compromising the Scottish government's plan which will see the restrictions gradually lifted.
"We don't want a mass outbreak of the disease in Glasgow or the surrounding areas because people have acted irresponsibly which then leads to a review of the route out of lockdown plan."
National clinical director Jason Leitch told the BBC he was hoping people would do the right thing.
He said: "We have been talking to the clubs for 10 days now, and I have been very impressed with their response. Captains, managers, police, all putting out the same message which is pretty straightforward.
"Stay at home, watch the game on the TV and don't go out to celebrate or commiserate. Just stay at home."