Covid in Scotland: NHS Louisa Jordan treats final patients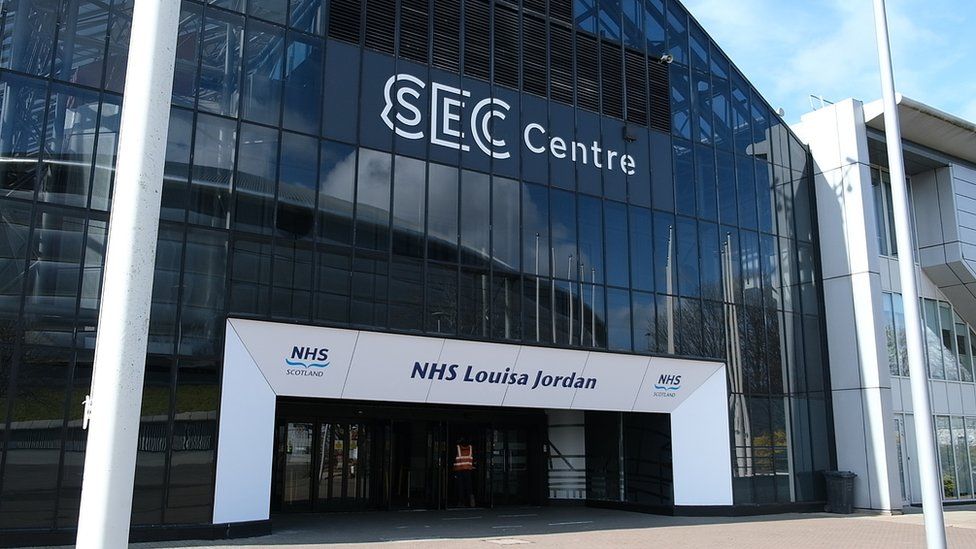 The final outpatient and diagnostic appointments are being carried out at NHS Louisa Jordan in Glasgow before it closes.
Wednesday is also the last day the temporary hospital will host training and accept blood donations.
A vaccination centre will continue to operate until Saturday before moving to the Hydro venue next week.
The £38m facility at the Scottish Event Campus played a critical role in the pandemic since it opened in July 2020.
The hospital has carried out more than 32,000 healthcare appointments, training over 6,900 healthcare staff and students and vaccinating about 175,000 people.
The Louisa Jordan vaccination centre will be relocated from the SEC Centre to the SSE Hydro on the campus site.
It will continue to run daily clinics with the ability to administer up to 10,000 vaccinations per day.
The hospital, which was completed last April, provided up to 1,036 additional beds to support the national Covid response.
Hospital chief executive, Jill Young, told BBC Radio's Good Morning Scotland: "It is really quite sad because there is so much passion and commitment from the many hundreds of staff who have been here for almost a year.
"But in a way we are almost happy because we were never needed for Covid, despite having to remain ready to stand up within seven days."
Ms Young said unlike other emergency virus hospitals, it was decided that NHS Louisa Jordan would establish 14 specialities for outpatient clinics.
She added: "Just one of those patients having early diagnosis of something suspicious and to get their care and treatment earlier is priceless."
Ms Young said it has been a "true collaboration from inception to decommissioning" and thanked everyone who played a part.
Equipment such as CT scanners will be repurposed and transferred to other NHS facilities.
NHS Louisa Jordan was named after a Glasgow-born nurse who died in Serbia in 1915 during World War One while working in a hospital.