Covid in Scotland: Sixty-one new deaths registered in past week
By Laura Hutton
BBC Scotland news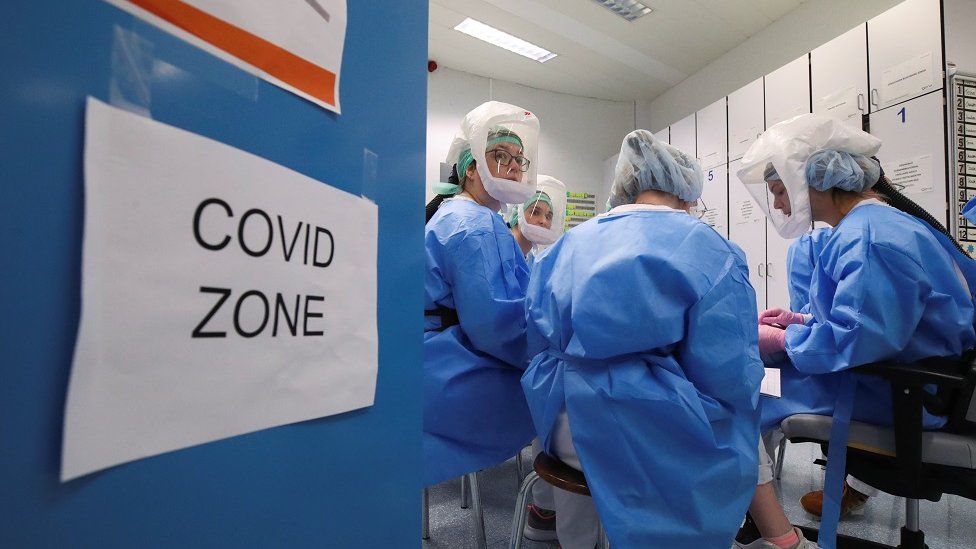 A further 61 deaths linked to Covid-19 were registered in Scotland between 22 and 28 March.
According to National Records of Scotland (NRS) that was a fall of five from the previous week and a decrease of 166 from the previous month.
In other statistics, 542 new coronavirus cases have been reported in the past 24 hours which is 2.1% of all tests carried out.
On Wednesday, 237 Covid positive patients were in hospital.
That is down by 13 with 21 of the 237 in intensive care, which is a drop of two.
Meanwhile, 2,463,069 people have now received the first dose of the vaccination and 338,443 have received their second.
According to NRS figures, 9,958 deaths have been registered in Scotland where coronavirus was mentioned on the death certificate.
The majority of occurred in hospitals, representing 43 deaths, with 13 occurring at home or in non-institutional settings and five in care homes.
This week, about half of fatalities linked to Covid were people aged 75 and over, representing 32 deaths, and 13 deaths were of those aged under 65.
This is a significant decrease compared with four weeks prior where about two thirds of deaths were people aged 75 and over, adding up to 148 deaths and there were 32 deaths among those aged under 65.
In the latest weekly figures, 48% were male (29 deaths) and 52% female (32 deaths).
Deaths from all causes are below average for this time of year for the third week in succession. There were 33 fewer deaths when compared with the five year average.
Pete Whitehouse, Director of Statistical Services, said: "It is welcome to report that this is the ninth week in succession where we have seen a fall in the number of Covid-related deaths and it's the third where there were fewer deaths from all causes, in comparison with the five-year average".