Rest and Be Thankful fully opens for 48-hour trial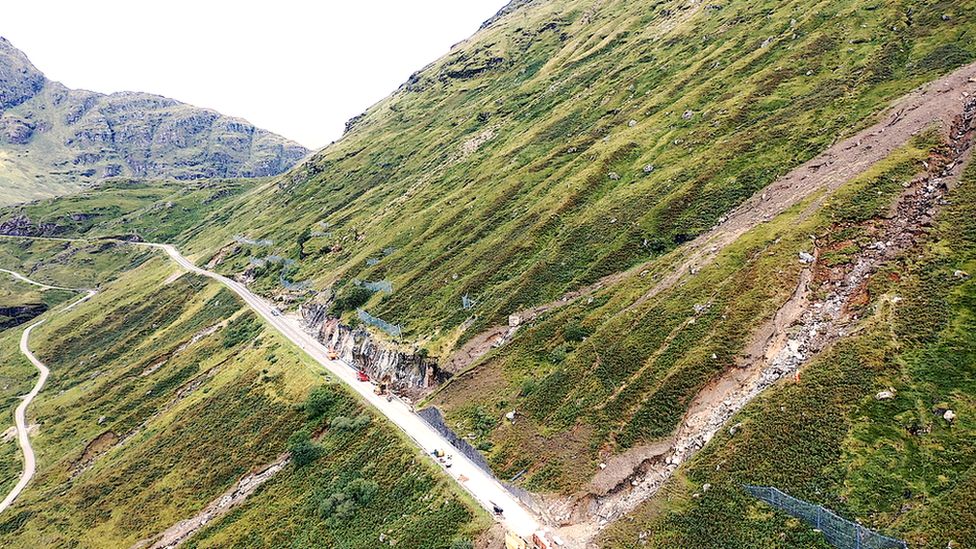 The A83 at the Rest and Be Thankful is to open round the clock for the first time in more than eight months.
The major link road in Argyll has been closed or partially closed since heavy rain caused a landslip of 6,000 tonnes of debris in August last year.
A trial of 24-hour operation will take place over the next two days to see if the route can stay open safely overnight on a long-term basis.
The old military road will remain on standby as a local diversion route.
Roads company Bear Scotland has been working to install new protection on the hillside above the road.
This has included the construction of a concrete wall to support the road as well as a culvert to carry water under it.
Damage to ground below the road has been sprayed with concrete and tied back to underlying rock with 8m (26ft) long rods.
Bear Scotland's Eddie Ross said teams would be on standby to re-route traffic "should conditions in the area or on the hillside begin to change".
He added: "Road user safety remains of paramount importance and we will only operate the A83 if we are content that it is safe to do so.
"Teams have been working 24/7 on the mitigation measures in the area, including strengthening the debris fences and creating a new debris catch-pit, with such features strengthening landslip resilience and providing greater protection to road users.
"As ever we thank road users and the local community for their patience while we do everything we can to address the ongoing issues at the Rest."
In recent years, the road has become notorious for the number of closures caused by landslips.
It was closed for 17 days in October 2007 and since then, nine more landslides have left the road impassable.
It was blocked in September 2009, December 2011, August 2012, October 2013, October 2014, October 2015, October 2018 - and twice in 2020.
About 1,000 tonnes of debris closed the road in January last year, and in August it was blocked by 6,000 tonnes of debris - including "car-sized boulders" - after heavy rain.
In March this year, the Scottish government announced a preferred route to replace the section of the A83 would run through the same glen as the existing road.
Transport Scotland has been consulting on 11 "route corridor options" to improve travel through the area.
A route through Glen Croe near the existing road has now been identified.