Extinction Rebellion block Faslane nuclear base entrance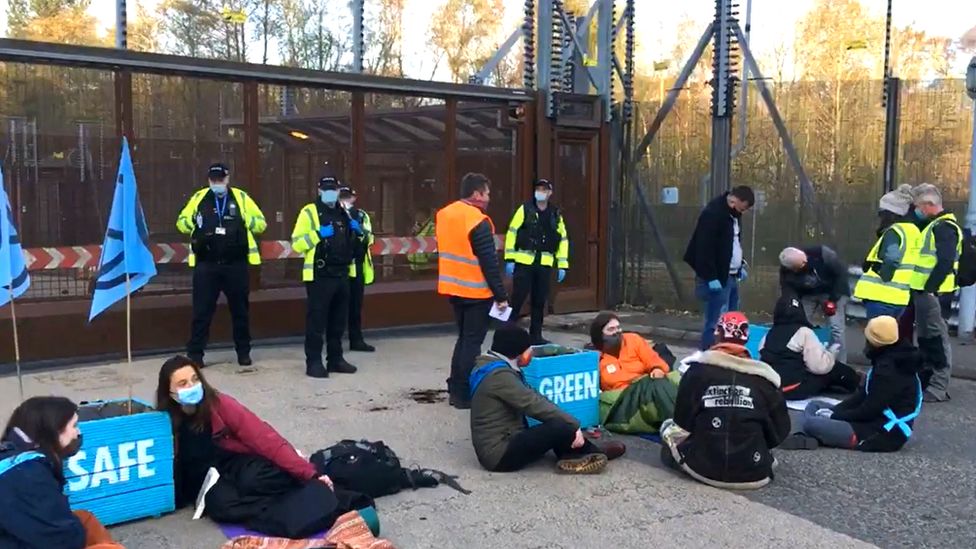 Climate activists set up a blockade at the Faslane nuclear base by attaching themselves to plant pots.
Members of Extinction Rebellion Scotland staged the protest at the north gate of the base on the Gare Loch in Argyll and Bute.
The all-female group placed three planters painted with the words "Safe", "Green", and "Future" on the road.
Police Scotland said they were made aware of the incident at 06:20 and officers were at the scene.
HMNB Clyde - known as Faslane - is the Royal Navy's main presence in Scotland.
It is home to the core of the submarine service, including the UK's nuclear weapons, and the new generation of hunter-killer submarines.
The protest group said they were demanding a future "safe from the threat of nuclear weapons and environmental destruction".
Extinction Rebellion said the action was part of the Peace Lotus campaign, a global day of anti-war resistance celebrating the anniversary of the end of the Vietnam War.
An HMNB spokesman confirmed police were in attendance and assisting Ministry of Defence officers in dealing with the protest.
He added: "Well-established, fully co-ordinated procedures are in place to ensure the effective operation of HMNB Clyde is not compromised because of protest action."