Faslane safety fears over cuts to fire crews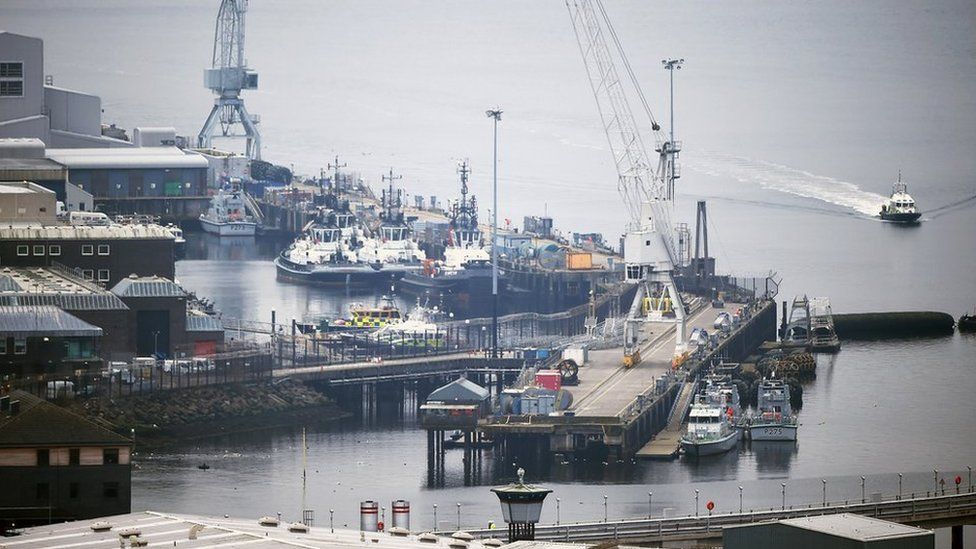 Workers at the Coulport and Faslane bases say cutting specialist fire crews is "an accident waiting to happen".
The Unite union says Capita management has reduced the specialist fire safety crew at the Clyde nuclear bases by eight, representing a cut of 15%.
It said local firefighters would be used as back-up, despite not having the specialist training needed.
Capita said it had conducted a thorough review of fire risks and said the cuts had been approved by the MoD.
A spokesman said the review had involved Ministry of Defence (MoD) stakeholders and there had been input from the Scottish Fire and Rescue Service (SFRS).
The company won the contract for fire response services from the MoD in 2020.
Unite believes the cuts seriously impair the abilities of the on-site fire crews to do their jobs properly, particularly in relation to incidents that would involve wearing breathing apparatus.
It said that due to breathing apparatus procedures, crews with only five staff would be unable to send wearers to certain incidents without back-up from the Scottish Fire and Rescue Service who do not normally deal with incidents on board nuclear submarines.
The union said Capita had responded to repeated concerns by saying it intended to mitigate any safety risks due to the cuts through an "investment in new technology to reduce fire risk".
Unite said that neither the Clyde Coulport or Faslane bases had received any new fire vehicles and it had not been given any information about new technology and training.
Debbie Hutchings, Unite industrial officer, said: "Capita's cuts are an accident waiting to happen make no mistake about that and it is not scaremongering on our part.
"This private company is effectively jeopardising the safety response capabilities at the Clyde's nuclear naval bases as part of a cost-saving exercise.
"We really have to ask ourselves whether this country is content to leave the nation's fire response capabilities to a company hell bent on saving money through cuts which compromises safety.
"This is not about the initial attack team dealing with small fires as Capita are claiming but the overall safety on the Clyde not only for the workers but local communities."
She said Unite would now be holding a ballot for industrial action.
A Capita spokesman said: "We have conducted a thorough review of fire risks at Faslane and Coulport with input from all relevant MoD stakeholders. This included consultation with the Scottish Fire and Rescue Service and accounted for our investment in new technology to reduce fire risk.
"The review's recommendation to adjust resourcing levels at both sites was ultimately approved by the MoD. This followed a lengthy process of scrutiny and four successful validatory exercises by our on-site fire station teams, which confirmed our recommendations to be suitable and sufficient.
"We are committed to the delivery of better fire risk outcomes for the Ministry of Defence, its personnel, and our firefighters."
An MoD spokesman said: "Fire safety at naval bases is of the utmost importance. A comprehensive review of fire risks at Faslane and Coulport has been conducted and found no issues concerning safety standards.
"The Defence Fire and Rescue contract will modernise the firefighting force with new vehicles, technology and training to provide a safer environment for both firefighters and those they protect."
Stuart Stevens, assistant chief officer at SFRS, said: "Firefighting arrangements at HM Naval Base Clyde and Royal Naval Armaments Depot Coulport are the responsibility of the Ministry of Defence.
"While discussions between partners have been ongoing there has been no discussion around changing our operational response or procedures either now or in the future, and we will continue to mobilise four fire appliances to either location if notified of an incident.
"We otherwise continue to work closely with key personnel at both sites around joint training and statutory exercising as well as routine familiarisation visits with operational crews."
Capita claimed only four people were affected by the cuts.
It said it had introduced several new technical systems to "enhance fire safety and operational delivery" across all stations, including HMNB Clyde. They included a global fire station log as well as a new procedure for risk assessments.
It said both Coulport and Faslane were due to receive new firefighting vehicles by the end of the year which would "reduce the training burden for firefighters, increase maintenance efficiency and increase flexibility".
It also said it was in the final stages of agreeing the location of onsite breathing apparatus training facilities at Coulport, to "improve firefighter safety and minimise the need for firefighters to travel for training".
Capita emphasised that local authority fire and rescue service cover had always been provided at the sites and that "no additional responsibility" was being placed on the SFRS.
It added that it fully engaged with the union and had hosted eight station briefings for personnel.
HMNB Clyde - known as Faslane - is the Royal Navy's main presence in Scotland.
It sits on the northern shore of Gare Loch, a sheltered sea loch that opens into the River Clyde, less than 30 miles from Glasgow.
It is home to the core of the submarine service, including the UK's nuclear weapons, and the new generation of hunter-killer submarines.
For almost half a century there has been a British submarine armed with nuclear missiles somewhere at sea, ready to respond.
The Clyde base has continued to grow over the past 20 years and now stretches for almost two miles down the eastern shore of the Gare Loch.
It is the largest military site in Scotland as well as one of the largest single-site employers, with about 6,500 people working there and another 200 nearby at the armaments depot at Coulport, where the warheads are stored.