'Now other women won't be haunted by the labour ward'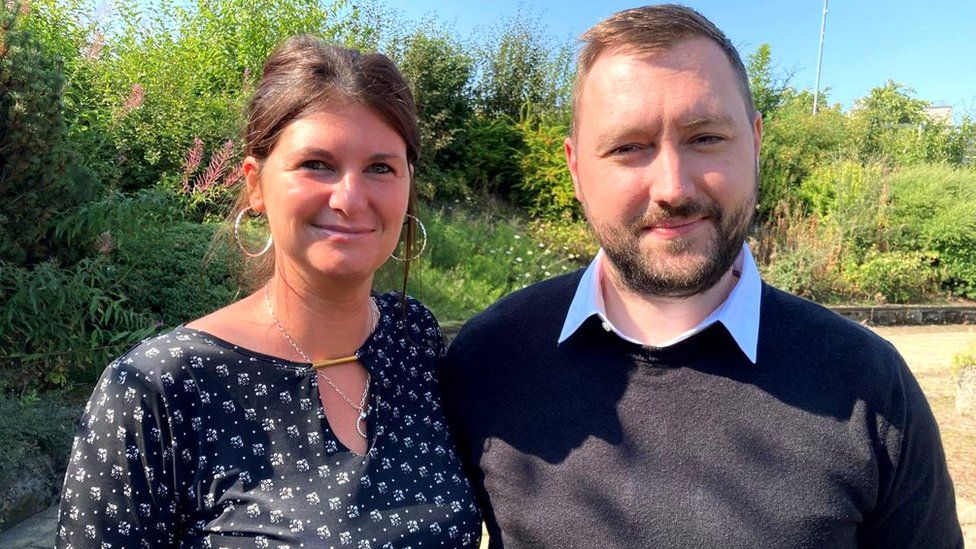 A mum has won her fight to stop women suffering miscarriages and stillbirths being treated in labour wards.
Louise Caldwell from East Kilbride has been campaigning to end the the insensitive practice after her own traumatic experience.
Louise, 38, gave birth in a room next to families with newborns after a scan revealed her baby had no heartbeat.
Her campaign has led to a new NHS policy promising others will not have to do the same.
The mother-of-three started a petition in August 2020, after she and husband Craig lost a baby in 2019.
She told BBC Radio's Good Morning Scotland programme: "I was 13 weeks pregnant and I went to my scan, told no heartbeat, came out the scan room and [they] spoke of three different procedures. I went to start and was told because I was over 11 weeks have to deliver in the labour ward. My body shut down as soon as I heard those words.
"The promises I was made that I would be met at the door and I wouldn't see anyone were completely false. I was let in that door by a dad celebrating the birth of his baby and on his way to tell his relatives the good news. I was waiting for a few minutes at that door. No midwives came for me."
Walking through corridors decorated with photos of babies and thank you cards, before being put in a room at the back of the ward was the next blow.
"You're passing rooms, and your head knows, your heart knows, that there are women giving birth in these rooms," she said.
"The labour ward is dedicated to live healthy babies. It surrounds you from the minute you walk through that door until you leave clutching your memory box. It's flowers, balloons, celebration."
'Haunted by the labour ward'
She said that if she was one of those other women, she could not enjoy her baby's birth if she knew there was a woman in the room next door going through that loss.
She added: "Like many many women, I will be haunted by the labour ward for the rest of my life. I have spoken to women who 50, 25 years later are still haunted by the labour ward."
Her campaign began when she spoke to a woman whose daughter was suffering a stillbirth at 31 weeks. Knowing exactly what the woman was about to go through, she decided it had to change.
Louise started a petition at the Scottish Parliament calling on the government to ensure that maternity departments have dedicated facilities for women who are experiencing unexpected pregnancy complications.
It coincided with a campaign launched by MSP Shona Robison, who herself experienced miscarriage, calling for support and also for earlier investigations into why women miscarry.
A year later, Louise's petition secured more than 28,000 signatures and now both the Scottish government and NHS Lanarkshire have confirmed that they are working towards dedicated miscarriage facilities and signposting mothers to the correct services.
The policy is to be included in the government's Women's Health Plan which was announced this week.
"I'm shocked and overwhelmed," said Louise at the news. "It still hasn't sunk in yet that this is happening.
"Now women will never have to go through the labour ward, will never have to hear a baby cry when they are going through the most traumatic time of their lives."
'Dignified and compassionate'
Louise wants to stay involved and see the first units opening and make sure she can keep offering advice and support.
"My little one should have been one in May so it is still new to me. Fresh and raw. Miscarriage is about one in four in the UK, that's about 850 women daily. And stillbirth is one in 250, about eight per day.
"It's nothing to be ashamed about."
A Scottish government spokesman said: "We are committed to establishing a dignified, compassionate miscarriage service tailored to the needs of women.
"The aim is to support the development of individualised care plans after a woman's first miscarriage and ensure maternity departments have dedicated facilities for women who are experiencing unexpected pregnancy complications."
Cheryl Clark, chief midwife at University Hospital Wishaw, said: "We would like to pass on our sincere condolences to Ms Caldwell. The loss of any baby is tragic and is a very distressing time for the family.
"At this time, it is standard practice that all women give birth in the labour ward. However, we recognise location in which parents receive care is something that can significantly influence their experience. With this in mind, we are moving towards a model where all women who suffer loss will be cared for in our Ohana suite, which is a soundproofed suite away from labour ward.
"While no facilities can lessen the grief and anguish bereaved parents may feel, we know how important well-designed bereavement rooms and suites are to ensure that appropriate care is delivered in the most sensitive environment possible."