'Don't set rubbish alight' warns Glasgow fire chief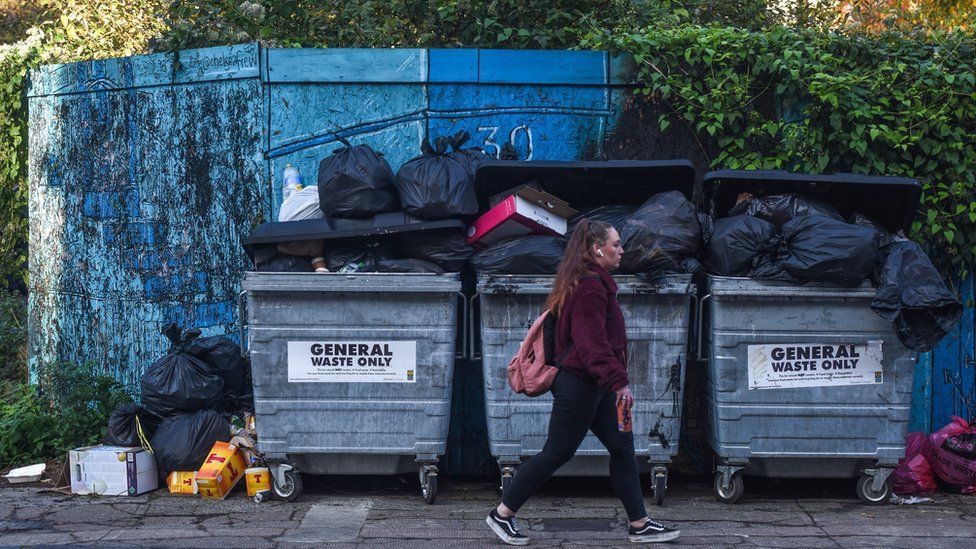 Fire chiefs have warned people in Glasgow against setting rubbish on fire amid an ongoing refuse workers strike.
Bins have been overflowing in some areas of the city after GMB union members walked out on Monday.
The Scottish Fire and Rescue Service (SFRS) is concerned some may be tempted to dispose of uncollected waste by setting it alight around Bonfire Night.
The first minister said if private firms were used to collect rubbish, it would "mitigate" fire risks.
Glasgow City Council said the role of contractors would be to address urgent health and safety problems, such as overflowing bins and blocked stairwells in high rise flats.
Meanwhile, the SFRS has urged businesses and residents to store waste "appropriately" and to keep fire exits clear.
Roddie Keith, the local senior officer in Glasgow, said he "strongly advised" against householders lighting a bonfire to dispose of waste.
He said: "There is a risk of uncontrolled fire spread. Some material within domestic waste may be highly flammable or can even explode and the smoke emitted can result in wider damage to the environment.
"All bonfires are dangerous so we are also asking everyone to ensure that those in their household, including the young people in their lives, are aware of the consequences of setting a fire.
"It is also important that duty holders and responsible persons carry out their own ongoing monitoring and review of refuse storage. It may be that additional temporary storage capacity needs to be created to ensure any excess refuse can be safely stored.
How can I store rubbish safely?
The SFRS has recommended the following measures:
Store any refuse in a secure area if possible
Consider storing excess dry paper, cardboard and washed plastic and glass recycling in bags within a shed, garage or available bin store until normal service resumes
Keep garages and sheds locked if refuse, cardboard or paper is being stored in these locations
Keep refuse, carboard and paper away from naked flames or heat sources such as cookers or heaters
If possible, keep refuse stored away from electrical sockets, chargers and multi-point adaptors
Keep all flammable liquids locked away
Continue to recycle where possible and limit any accumulation of refuse in areas that may be easily accessible
Keep escape routes clear at all times
Warn other people if a fire breaks out - then get out, stay out and call the Scottish Fire and Rescue Service out by ringing 999
Council and union bosses met on Wednesday in a bid to try to solve the dispute over pay and conditions.
Glasgow City Council believes the strike is "unlawful" but said it hopes to resolve the dispute with continuing dialogue.
It also said it had been left with "no option" but to explore contingency plans.
During FMQs on Thursday, Labour MSP Paul Sweeney accused the local authority of "bussing in blackleg private contractors" in order to break the strike.
However, Nicola Sturgeon said the use of private firms to clear rubbish would "mitigate" fire risks around 5 November.
She said: "As I understand it it was made clear by the council that they were not going to take legal action. On this suggestion of breaking the strike, the council do have a concern about bonfire night posing an additional fire risk if rubbish is not collected.
"So what they are considering is cover to mitigate these risks. What they are not considering is using contractors to fulfil the regular duties of striking staff. "