Scotland's first 'enclosed' salmon farm to open on Loch Long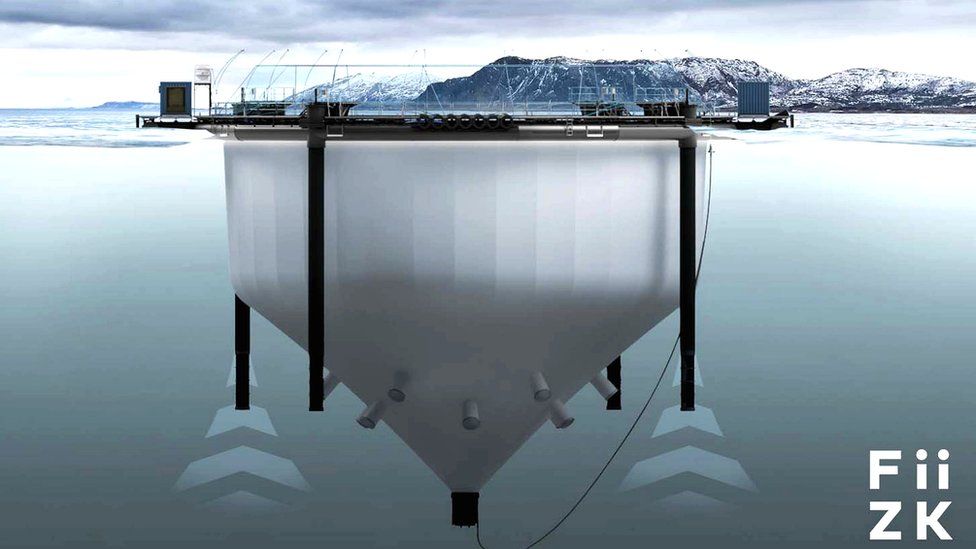 An innovation in salmon farming - to tackle pollution and the spread of parasitic lice - will mark a first for Scotland at a new fish farm in Argyll.
Giant containers which will separate wild and farmed fish could revolutionise the high-demand industry.
A new fish farm on Loch Long will use the pollution-limiting containers next year if planning is approved.
Environment agency Sepa has granted a licence for the semi-enclosed vessels in a move welcomed by conservationists.
It is hoped other sites will follow suit.
'Light-touch regulation failed'
The aquaculture sector has faced prolonged criticism for its impact on the marine environment.
It followed concerns about the high numbers of farmed fish affected by sea lice.
Pollution can also be caused by adding medicines to the water for treatment.
The environmental regulator Sepa has been working with fish farms to develop ways like this of limiting their impact on the sea.
Stewart Hawthorn, director of Loch Long Salmon, said: "This exemplar project provides an opportunity to show closer to home what is possible and to secure the future of the salmon farming industry in Scotland.
"It will reduce environmental impacts while continuing to support vital jobs and economies in rural Scotland."
Semi-enclosed containers have been used in Norway since 2014 and have also been rolled out in the Faroe Islands and Canada.
While they are a more expensive way of managing the stock, Loch Long Salmon says savings are made through reduced fish mortality and in eradicating the need for medicines that treat the lice.
They also cut the amount of waste falling to the seabed, with about 85% being collected at the bottom of the enclosure and pumped ashore for treatment.
Jo Green, acting chief executive at Sepa, said: "We want Scotland to be a world-leading innovator of ways to minimise the environmental footprint of food production and supply, and for aquaculture operators to have a strong and positive relationship with neighbouring users of the environment and the communities in which they operate."
Scotland has more than 200 active fish farms and the industry expects consumer demand for salmon to continue growing.
Producers' organisation Salmon Scotland estimates that it contributes more than £640m to the economy and sells over £1bn of fish.
Dawn Purchase, aquaculture programme manager for the Marine Conservation Society, told BBC Scotland: "The use of semi-enclosed systems to farm salmon is a great example of the innovation needed to address environmental impacts and challenges of production, such as seabed pollution and sea lice management.
"We are keen to see this type of farm becoming widely adopted to help deal with these persistent problems."
The site near Arrochar on Loch Long will contain five enclosures which look from the surface like traditional pens.
It still needs to be approved by planning authorities but Loch Long Salmon hopes to begin construction later this year.