Red Hot Chili Peppers fan travelled 4,800 miles for cancelled gig
By Auryn Cox
BBC Scotland News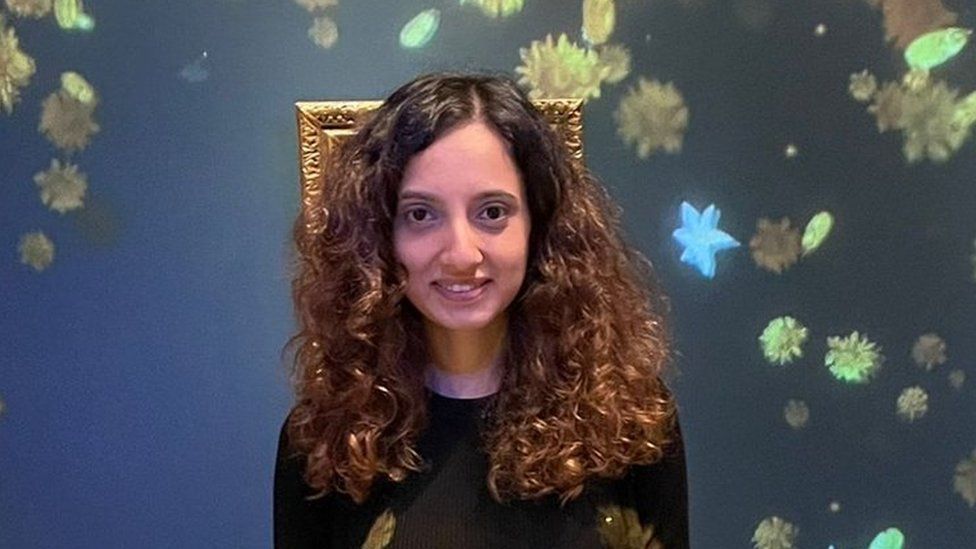 A Red Hot Chili Peppers fan travelled more than 4,000 miles (7,700km) for a gig in Glasgow which was then cancelled at short notice.
Divyanka Kapoor and her husband spent more than nine hours flying from Mumbai to London, before boarding another flight to Scotland.
The next morning she was devastated to learn the gig had been called off due to illness.
The couple are now making the most of a bad situation with some sightseeing.
Divyanka told the BBC News website she was already beginning to get excited for the gig when she arrived in Glasgow.
"I was feeling good," she said. "It was colder than I imagined it would be and it was rainy, but none of that mattered at the time."
A long-time fan of the Red Hot Chili Peppers, Divyanka was eager to see them live after hearing John Frusciante was re-joining the band and they were going on tour.
"I didn't know when this would happen again," she said.
"Everything got sold out really quickly but the Glasgow event was available so, without thinking too much about it, me and my husband booked tickets."
They were both tired after their flights so they grabbed a quick bite to eat before getting some rest.
"I was looking forward to hearing 'Can't Stop', 'Under the Bridge' and 'Californication' live," Divyanka said.
"I read the news at 7am, it was the weirdest feeling," she said.
"I couldn't get out of bed, I just didn't know what to do with myself, I was absolutely heartbroken."
Despite her disappointment, she is eager to enjoy the rest of her time in Scotland.
"It's always nice to see new places," she said.
"I'll have a look around the city, visit the breweries, bars and just kind of explore. I haven't really made any plans. The concert was the whole reason we came though."
Divyanka is hoping the concert will be rescheduled and she can come back another time rather than get her gig tickets refunded.
"This is my first concert of this scale overseas," she said.
"I really hope I haven't missed the opportunity to see the Chili Peppers live."