Glasgow Museums to return seven stolen artefacts to India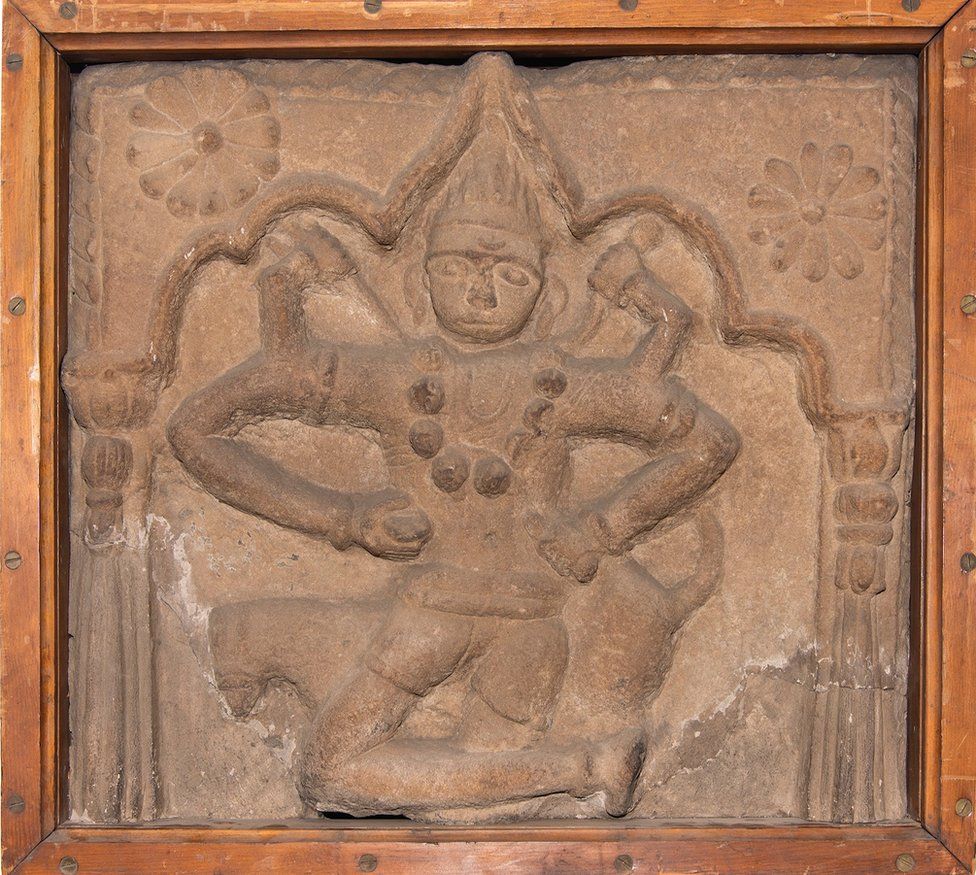 Glasgow Museums has agreed to return seven stolen artefacts to India.
Delegates from the Indian High Commission sealed the move by signing an agreement at the Kelvingrove Art Gallery and Museum.
It is thought to be the first repatriation to India from a UK museum - with more to follow elsewhere.
Six of the items, including 14th Century carvings and 11th Century stone door jams, were stolen from shrines and temples in the 19th Century.
The seventh object, a ceremonial sword or called a tulwar, with its scabbard, was stolen in 1905 from the collection of the Nizam of Hyderabad by his prime minister.
He then sold it to the British general Sir Archibald Hunter.
All of the artefacts were gifted to Glasgow Museums.
Glasgow Museums said the items were believed to be from Kanpur, Kolkata, Gwalior, Bihar and Hyderabad.
Some of them are thought to be about 1,000 years old.
Sujit Ghosh, acting Indian high commissioner, welcomed the return of the items.
He said: "These artefacts are an integral part of our civilisational heritage and will now be sent back home.
"We express our appreciation to all the stakeholders who made this possible, especially Glasgow Life and Glasgow City Council."
It is not the first time Glasgow has returned stolen artefacts to their source nation.
Duncan Dornan, head of Glasgow Museums, said: "The process of repatriation of objects has been going on for a long time in Glasgow.
"The first return of an object to the source nation was back in 1998, with the return of the ghost shirt to the Lakota nation.
"These processes take a long time: establishing a relationship, establishing trust, establishing the background of the objects and being confident the objects in question were taken incorrectly.
"And then taking it to a point where the details of repatriation have been sorted out.
"It's not that there's been a large change in Glasgow's attitude to repatriation, but simply processes that can be quite protracted."
The relics will be returned to the Indian government later this year.
Mr Dornan said: "The agreement is very significant - this is the first repatriation to India from a UK museum.
"We haven't had details of how the objects will be used once they return to India.
"But obviously there are of significance and it's an important moment in India as it is in Glasgow, so I'm sure they will be subject to a great deal of public attention.
"But this is really a way of building new and stronger relationships, to co-operate, to improve our services, and support our visitors and the wider population."
Glasgow is also set to return a number of other items to their original cultures.
However, Glasgow Museums said the claims only affected a small percentage of its collection - at less than 60 objects.
Recently-approved claims include 19 bronzes taken during the sacking of Benin City in Nigeria in 1897.
About 25 Lakota and Oceti Sakowin ancestor and cultural items will also be handed back to the Cheyenne River Sioux and Oglala Sioux tribes of South Dakota.
They had been sold and donated to Glasgow's museums by George Crager, an interpreter for the Buffalo Bill Wild West Show who visited the city in 1892.
Glasgow Life said the repatriation process would help it use collections in a "more honest and thoroughly researched way" and help build relationships with other countries.