Eyesight 'a cause' in fatal crash at level crossing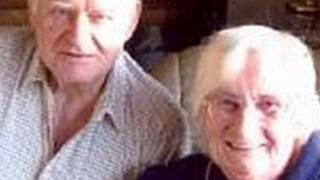 The quality of a car driver's eyesight was the most likely cause of a crash at a level crossing in which three people died, according to investigators.
The Rail Accident Investigation Branch (RAIB) highlighted sight as a possible cause in its report on last September's accident at Halkirk.
Driver Angus MacKay and his wife Margaret, both 81, and Mr MacKay's brother Donald, 66, were killed.
The RAIB also strongly criticised Network Rail in the report.
No-one on the train was injured in the accident in Caithness.
Previous accidents
The RAIB said Mr MacKay may not have seen, or misinterpreted, the warning lights at the level crossing.
A review of his eyesight records concluded that, on balance of probabilities, his sight had not met the standard set by the Driver Vehicle and Licensing Authority (DVLA).
The RAIB also said it appeared that Mr Mackay was not wearing spectacles to improve his distance vision as he was advised at eyesight examinations in 2006 and 2009.
In the newly-published report, Network Rail is criticised over the safety of the crossing.
The RAIB said the company "did not properly understand the risk" at the site because it had not taken a record of four previous accidents - one of them fatal - into account.
The branch said: "Had it done so, the level of risk might have justified more costly risk reduction measures, and risk reduction measures that had been indentified might have been implemented more quickly and before the accident occurred."
Six recommendations were made on improving safety at the site.
One - upgrading the crossing so that it has a locally monitored automatic barrier - has already been investigated by Network Rail.
According to the RAIB report, the company has concluded that "it would not be reasonably practicable to upgrade the crossing".