Sunday ferry opponents 'not the Taliban'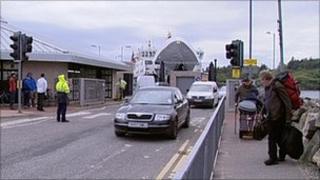 Opponents of Sunday ferry sailings from Lewis to mainland Scotland are not "religious bullies or the Taliban", an islands church leader has said.
The service between Stornoway and Ullapool is a year old this weekend.
Ferry operator Caledonian MacBrayne's move was controversial because on Lewis the Sabbath day has traditionally been strictly observed.
The Reverend Greg MacDonald said those opposed to it were not bullies and only wanted to spread a gospel message.
He told BBC Scotland: "The culture here has been influenced largely by the gospel and by Christian culture and we don't want to see that degraded in any way."
Mr Greg, of the Free Church Continuing in Ness, added: "We are not doing it to be religious bullies or the Taliban or anything like that.
"We have a gospel message we want to tell people about because it is the most important thing in the world."
Supporters of the service see it as a boost to the economy of the Hebrides and also broadening islanders' travel options.
Uisdean Macleod, who was among those who campaigned for the service, said: "Life is pretty much as it was a year ago except that people can now get on and off the island over the weekend if they wish to.
"People that live here want the same quality of life that people have everywhere else.
"People live here for specific reasons. They do want to live on an island, they do want to live in the peace and quiet, but they also want access to services the same as everyone else in the UK does."