Highland Wildlife Park shows off wildcat kitten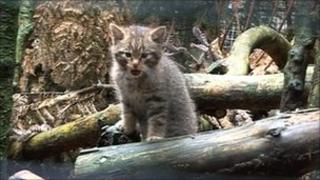 A wildcat kitten, which was born in captivity in the Highlands, has been introduced to the public.
The new arrival, who is yet to be named, was born in May at the Highland Wildlife Park near Aviemore.
The kitten's mother, Seasaidh, is one of the park's 12 wildcats. It is thought there may be as few as 400 of the animals in the wild.
Douglas Richardson, the site's animal collection manager, said they face extinction in the wild.
He said: "Historically they were hunted for fur and killed as vermin but more recently disease and vehicle collisions have also taken their toll."
Mr Richardson added: "Like any kitten they are incredibly cute.
"Only this one, when you get up close enough, is about as cute as a roll of barbed wire."