Inverness Highland Games aim for box office hit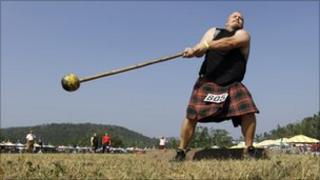 Hollywood is beckoning for spectators at this year's Inverness Highland Games.
Visitors are being asked to send in video clips of the event for a unique film project being organised by Google and YouTube.
They have teamed up to make the world's first feature-length film exclusively featuring user-generated video clips posted on YouTube.
"Life In A Day" will be shot in one day by people from all over the world.
Google has asked Inverness to contribute as the games fall on the day selected - 24 July.
Anyone whose clips are selected for the film will win a chance to attend the film premiere at the Sundance Film Festival in Utah, USA.
"Life In A Day" will be put together by Hollywood directors Ridley Scott and Kevin Macdonald.
The Inverness link to the 90-minute film followed an approach from Google to games organiser Gerry Reynolds.
Mr Reynolds was asked to encourage spectators attending the games and the Armed Forces Day celebrations at the Northern Meeting Park to post their video clips on YouTube.
Google said it saw the Inverness games as a "perfect partner" for the project, adding it would "provide your local community with the chance to be part of this unique production".
Mr Reynolds said: "The interest in the Highland Games continues to grow and this approach is another very exciting development.
"Hundreds of people attending the games will be carrying video recording equipment and the chance is there to win a trip to the United States by sending Google their favourite clips."