Highlands MSP welcomes review of rail laws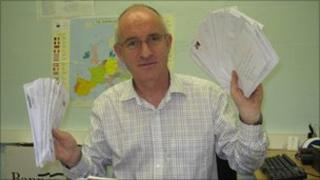 A Highlands MSP has welcomed a consultation by the Law Commissions of Scotland, England and Wales on how rail laws can be modernised.
But Dave Thompson said the authorities should not wait for changes in the law before taking action to improve safety at open level crossings.
The commissions have said that the level crossings pose the largest single risk of train accidents.
Scotland has 23 unmanned open crossings and 21 are in Mr Thompson's seat.
At the beginning of this year Mr Thompson revealed the findings to his own Highland and Islands-wide consultation on level crossing perceptions, which confirmed 86% of the population wanted crossings upgraded with barriers and 77% stated they did not feel safe using them.
Mr Thompson said: "The commissions stated this is one of the most obscure branches of the law which needs to be brought out of the 19th century and into the modern world.
"I could not agree more. Anything which will save lives at level crossings is welcome and very necessary.
"Part of that modernisation includes a very sensible proposal in the consultation is to transfer the function of closing level crossings to Scottish ministers.
"Simplification is key to the future of rail law.
"It is imperative that residents with an opinion on rail crossing safety respond to this new consultation. I would encourage all Highland residents - who have to live with 91% of all the open crossings in Scotland - to take part.
"I have nearly 2,500 replies to my open crossings consultation which I will be forwarding onto the commissions' consultation for consideration."