Investment boost for wave energy company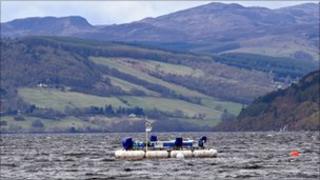 Inverness-based AWS Ocean Energy, has received additional funding to develop its new wave energy system.
The Highlands company and its project partner, the University of Strathclyde, have received £350,000 from the Technology Strategy Board, to promote and support the system.
The investment will be used to develop their AWS-III device.
The funding is part of a £7m package awarded to nine wave and tidal projects in the UK.
The AWS-III, is a ring-shaped multi-cell surface-floating wave power system and is the result of almost two years of intensive research and development work.
The projects are aimed at driving down the cost of energy while improving the reliability and performance of wave and tidal power.
Simon Grey, chief executive of AWS Ocean Energy, said: "This latest funding is very welcome as we continue to develop our AWS-III wave energy device.
"Our trials on Loch Ness will restart in September for a six-week period and thereafter a detailed assessment of the trial results will be undertaken before we start building and then deploy a full-scale version of one of the wave absorption cells."
Iain Gray, chief executive of the Technology Strategy Board, said: "The UK is well placed to exploit wave and tidal stream energy resources with all of the coastline that we have, and it is expected this kind of technology will be an important part of the renewable energy mix needed in the future."
Elaine Hanton, joint head of Energy at Highlands and Islands Enterprise said: "The Highlands and Islands of Scotland are uniquely placed to support the growing marine energy sector."
A single utility-scale AWS-III, measuring about 60m in diameter, will be capable of generating up to 2.5 MW of continuous power.