Cocaine dealer jailed for six years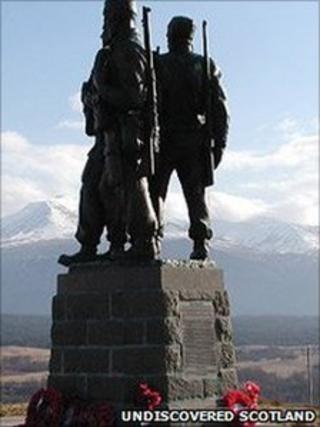 A drug dealer who was involved in trafficking cocaine worth £200,000 and was caught with some of his stash at a war memorial has been jailed for six years and three months.
Darren Williamson, 30, was caught with 396g (14oz) of cocaine at the Royal Marines Commando Monument in Lochaber.
He had gone to the monument at Spean Bridge when he met another man carrying a package.
Police arrested him in Dingwall and the package was found to contain the drug.
Sentencing Williamson at the High Court in Glasgow, Judge Lord Bannatyne told him that he been convicted of an extremely serious offence.
He said: "You have been convicted of a very substantial charge of being concerned in the supply of a class A drug over a substantial period of time.
"A charge such as this can only attract a lengthy period of imprisonment."
At an earlier hearing, Williamson, described as a prisoner in Inverness, admitted being concerned in the supply of cocaine between June 2005 and December 2009.
His co-accused John Fisher, 27, of Muir of Ord, also admitted being concerned in the supply of cocaine last December.
Lord Bannatyne jailed Fisher for two years and four months.
Middle man
Defence advocate Liam O'Donnell, representing Williamson, told the court his client was simply acting as a "middle man".
Mr O'Donnell said: "Mr Williamson was simply a cog in the machine of distribution.
"He was initially a cocaine user who unfortunately used between seven and 10g grams a day.
"Debts soon mounted up and he was invited to become involved in the distribution process to pay them back."
Defence advocate Mark Moir, representing Fisher, told the court his client also had a drug problem and had lost his job and so turned to dealing to pay for his habit.
Williamson's sentence was backdated to 24 December last year and Fisher's was backdated to 24 May this year, when they were remanded in custody.