Two events create one big gathering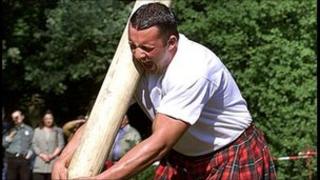 The Inverness Highland Games and Armed Forces Day celebrations have combined together to create one of the biggest gatherings of the year in the north.
Thousands are due to witness the first Highland Games staged at the Northern Meeting Park since 1948.
Crowds are also expected to turn out to watch the Armed Forces Day Parade in Inverness.
The parade will feature nine pipe bands and more than 800 serving soldiers and veterans.
The troops will march down the High Street of the Highland capital before they cross the Ness Bridge to join in the celebrations at the Meeting Park.
Games chieftain Provost Jimmy Gray said: "Saturday's gathering promises to be a wonderful community gathering in the heart of Inverness.
"I am sure that the day is not only going to bring back many memories as the games goes home to Northern Meeting Park; but I am sure it is going to create many new ones, as we celebrate the contribution made by our Armed Forces to our community over the years."