Western Isles wind farms to connect to grid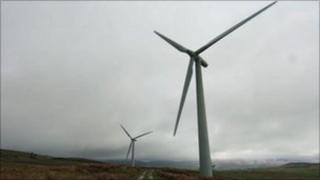 Six community-owned energy companies on the Western Isles have been given the go-ahead to connect 11 wind turbines to the National Grid.
It is hoped the schemes will generate profits of £2.5m annually.
Planning permission for the turbines had already been granted by the islands' local authority, Comhairle nan Eilean Siar.
The companies had been concerned they would not be able to connect to the network for another four years.
The turbines to be constructed in communities from Galson in the north of Lewis to Barra and Vatersay in the south of the islands chain will supply enough electricity for 15,000 households.
EcoHeb, a cooperative set up to represent the six companies, said the schemes could raise more than £60m for the islands during the 25-year lifespan of the turbines.
Chairman David Wright said: "All the schemes are 100% community-owned and all of them will be returning every penny they make back into their communities."
He added: "This breakthrough should encourage other communities to set up their own energy companies and to build even bigger and more profitable schemes.
"This is a renewables and a social revolution and it shows that the community sector can now compete with the big multi nationals, and deliver a lot more benefit back into their own areas."
Three turbines at Point and Sandwick generating 9 mega watts (MW) of power will be the largest community wind farm in the UK.
Sealladh na Beinne Moire with three turbines generating 6.9MW will be the second largest.