New medical site in Nairn a Scottish first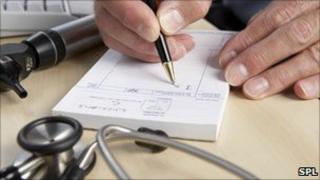 A new medical centre that helps to bring health care professionals together on the same site has opened to patients.
The primary health care centre was built next to Nairn's new community hospital, which opened last year.
NHS Highland said the combined development was the first of its kind in Scotland.
Together the centre and hospital have almost 200 staff including GPs, nurses, midwives and social workers.
Therapists and support staff are also based at the Cawdor Road site.
A dental practice with five surgeries will open at the development next month.
The primary care centre includes 22 consulting rooms, a minor surgery room, conference room and office space for two GP practices - the Lodgehill in Nairn and Ardersier.
The building also has meeting space for a range of community staff including district nurses, midwives, community psychiatric nurses, public health nurses, school nurses, health visitors, physiotherapists and occupational therapists, speech and language therapists, a pharmacist and a dietician.
GP Dr Adrian Baker said the opening of the centre was of huge importance to the area.
He said: "This is a historic moment for this locality and the realisation of a vision that has been held for over two decades by the community and staff.
"To have all health and social services integrated on one site is a once in a lifetime achievement. To put this into perspective, the most recent health development in Nairn was Lodgehill Clinic in 1961."