Scotland's Housing Expo ideas used for 100 new homes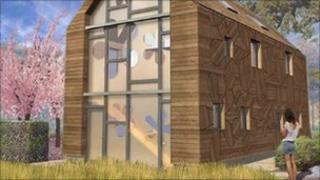 One hundred new homes are to be built on a derelict site in Inverness using some of the ideas which will be showcased at Scotland's Housing Expo.
More than £1.5m of public funds will be spent on constructing the properties at the brownfield site at Glendoe Terrace in Merkinch.
August's expo near Milton of Leys, Inverness, will be an exhibition of environmentally-friendly housing.
The month-long event has received £2m from the Scottish government.
The building of the new homes in Merkinch was announced during a visit to the expo site by First Minister Alex Salmond and Housing Minister Alex Neil.
Exhibition organisers the Highland Housing Alliance bought the land at Glendoe Terrace.
Mr Salmond said: "I am delighted to announce today that the Highland Housing Alliance will be taking forward some the expo's innovative ideas on derelict land at Glendoe Terrace, Merkinch.
"They and the council have been keen to develop this site for many years and through their partnership with the Scottish government, they are now able to create around 100 new homes, building on some of the green principles on show at the expo."
Highland Council, which has also funded the expo, has contributed £1m to the construction project and the Scottish government £530,000 from its Vacant & Derelict Land Fund.
The announcement comes as the names for streets at the expo have been made public on the event organisers' Facebook page.
The names are Balvonie Street, Balvonie Brae, Balvonie Green, Balvonie Square and Balvonie Terrace.
Properties on the site will be sold following the end of the event.