Inca gold taunt over wind turbine cash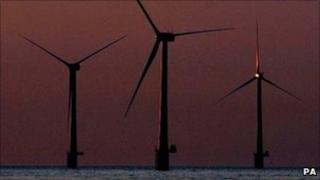 The UK government's control of taxes on fossil fuel companies has been compared to Spanish conquistadores taking Inca gold by Scotland's first minister.
Alex Salmond was renewing the Scottish government's call for the release of £185m from the fossil fuel levy to invest in renewable energy work.
A new report predicts 5,180 jobs could be created if £233m was spent opening 11 wind turbine manufacturing sites.
The UK Treasury said the chancellor had already committed to review the levy.
Speaking in Dornoch - one of four stops on the Scottish cabinet's summer tour - Mr Salmond said opening the sites could generate £300m each year for Scotland's economy.
The first minister said the UK government's retention of money from the levy was "grand international larceny of a scale not seen since the Spanish stole the Inca gold".
His comment followed the release of the second stage of Scotland's National Renewables Infrastructure Plan, jointly published by Highlands and Islands Enterprise and Scottish Enterprise.
It suggests the creation of 11 offshore wind turbine manufacturing sites across Scotland could generate more than 5,000 jobs.
Locations looked were Aberdeen, Ardersier, Arnish, Campbeltown/Machrihanish, Dundee, Hunterston, Kishorn, Leith, Methil, Nigg and Peterhead.
The sites could supply wind farm construction projects proposed for the Moray Firth and off Orkney.
Mr Salmond said: "Scotland has the natural resources, expertise and ambition to become a global powerhouse for clean, green energy.
"The National Renewables Infrastructure Plan outlines the steps required to realise our ambition and to establish Scotland as a premier destination for the manufacture and installation of offshore renewable energy devices."
A Treasury spokesperson said: "The June Budget committed to review the control and use of revenues from the fossil fuel levy in Scotland.
"This will be considered as part of the Spending Review process."