Inverness railway crash excavator 'ran away'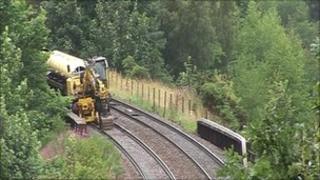 A railway maintenance machine "ran away" with its operator on board and collided with a stationary freight train, investigators have said.
The Rail Accident Investigation Branch (RAIB) has made a preliminary examination of last week's incident near Raigmore, Inverness.
It said the road-rail excavator's operator was seriously injured after he was thrown from the cab.
The RAIB said the machine rolled three-quarters of a mile down the track.
The 63-year-old maintenance worker was treated at Raigmore Hospital in Inverness.
Rail services between Inverness and Perth were disrupted after the incident.
The RAIB said the accident happened at about 2330 BST last Tuesday.
It said the excavator was due to work during the night moving track materials while the railway was closed to normal traffic.
In a statement, the RAIB said: "During the process of placing it onto the track, the excavator, with its operator on board, ran away towards Inverness, down a gradient of approximately 1 in 60.
"It ran past a signal at danger, travelled out of the area of the line that had been closed for engineering work.
"About three-quarters of a mile from where it had started, collided with the rear of a freight train that was standing at a signal on the approach to Welsh's Bridge Junction, Inverness."
The excavator and the rearmost wagon of the train were both derailed and damaged.
The RAIB said its preliminary examination found no evidence that the condition, or operation, of the railway's signalling system contributed to the accident.