Dounreay turns to flower power to aid bumblebees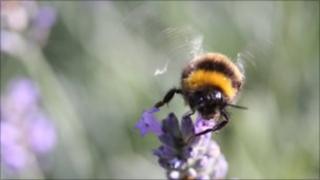 A field at a defunct nuclear power plant is to be turned into a wild flower meadow to help boost bumblebee numbers.
The site in front of Dounreay's Prototype Fast Reactor in Caithness has been deemed clean of radioactivity and already has orchids and clover growing.
One of the target species the project aims to help is the great yellow - among Britain's rarest bumblebees.
The Bumblebee Conservation Trust has given advice on the meadow plan.
Dounreay Site Restoration Limited (DSRL), the company heading up the decommissioning of the nuclear complex, said staff had reported seeing the bee.
Northern Scotland is one of the few areas where the species survives.
A wild flower seed mix will be sown on the field.
DSRL environment manager Doug Graham said the wider Dounreay site already provided habitat for otters and colonies of wild birds.
He said: "Because nuclear sites are closed to the public, they are a good haven for wildlife, as it doesn't have to compete with other activities, such as farming, for the use of the land."
DSRL managing director Simon Middlemas added: "It seems appropriate to return land on the site back to nature, as our mission is to clean up and restore our environment."