New plan to build council houses in Highlands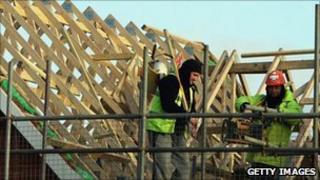 Highland Council has proposed a new scheme which would allow it to resume building local authority housing.
It has suggested a private partner could be brought in to buy properties as they become vacant and use the money raised to construct new ones.
The homes taken over by the private company would be re-let to people on the housing register at a higher rent.
Highland Council said the scheme could see 600 properties built over five years.
It added that the move would also help to reduce its housing debt of £147m.
The council is spending £15m a year on loan charges to service the debt and has repeatedly asked the UK government to write it off.
Last month, the chief secretary to the Treasury said the government would not be able to cancel the debt in the short term.
Danny Alexander, MP for Inverness, Nairn, Badenoch and Strathspey, previously campaigned for the debt to be removed.
While visiting the Scottish Parliament he said the UK's "overall financial situation" must be resolved first.
In 2006, the local authority's tenants voted against transferring ownership of 14,500 homes to a private housing association.
More than 60% of tenants voted, with 59.7% of those against plans to transfer to Highland Housing Association.
Independent review
Both Highland Council leaders and ministers had urged tenants to support the proposal, which would have seen the authority's £160m debt at the time wiped out by the Treasury and 1,000 more houses built.
In a separate effort to make savings, council officials have suggested handing over the running of culture and leisure facilities to an "arm's length" organisation.
The two proposals have emerged as an independent review commissioned by Scottish ministers reported that up to 60,000 people working in the public sector in Scotland could lose their jobs.
The panel which considered options for future expenditure recommended a fall in public sector employment of between 5.7% and 10% by 2014-15.
It called for reductions to be made as far as possible by natural wastage.
The panel was created in February to detail which cuts could be made in the face of a £42bn squeeze over 16 years.