Scottish Natural Heritage handed deer role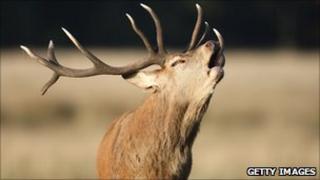 Scottish Natural Heritage (SNH) has taken on responsibility for promoting sustainable deer management and conservation after merging with the Deer Commission.
The move means SNH is now the Scottish government's statutory adviser on deer.
Ministers said the merger would combine the skills and expertise of SNH with commission staff and increase efficiency.
Most former commission staff are to remain in post.
SNH has also created a transitional panel which will advise, mentor and train its current board and senior staff over the next three years.
Minister for Environment Roseanna Cunningham said: "Merging the responsibilities of the Deer Commission for Scotland and Scottish Natural Heritage will combine the strengths and expertise of both organisations and is a key aspect of the Scottish government's commitment to public sector reform."
The Scottish government plans to reform deer management further with the Wildlife and Natural Environment Bill, which was introduced to parliament on 9 June.
The bill is intended to make further changes to deer management in Scotland, as well as revising and updating game laws and other areas of wildlife management.