Barra Fest hit by CalMac ferry woes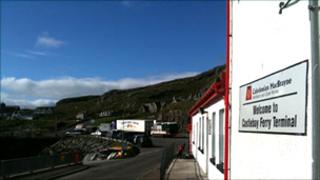 Festival-goers on the Hebridean island of Barra have been hit by further ferry problems disrupting sailings to the mainland.
Operator Caledonian MacBrayne's Oban to Barra ferry had returned to the route this weekend after being out of service for a month, but has broken down again.
Hundreds of people have been on the island for the Barra Fest event.
CalMac said it hoped to repair the MV Clansman and sail for Barra this evening, returning to Oban overnight.
A temporary service between Mallaig and Barra has also been running, but there may only be limited space for cars.
Buses have been laid on to take passengers back to Oban and possibly on to Glasgow from Mallaig.
One festival-goer told BBC Scotland that there was "huge anger" on Barra after the latest CalMac ferry problems.
Gillian Hamill, one of the organisers of Barra Fest, said both islanders and visitors had been left frustrated by the breakdown.
She said: "There are several bands trying to get back. Most of them have vehicles and they have work to go to tomorrow and other gigs to play, and lots of other people have been stranded.
"There's still a huge deluge of people trying to escape. It has been a big problem the Clansman being out of action this summer and tourism on the island has suffered, though they did deploy another ferry.
"This weekend it was a great sight seeing the Clansman come in on Friday night and we were all delighted and had high hopes."
She added: "I think it has been the best festival ever in spite of CalMac."
CalMac said repairs to the MV Clansman were "progressing well" and it was hoped it could leave Oban at 1900 BST to make a return sailing from Barra at 0010 BST on Monday.
This was the first weekend back in service for the Clansman after repairs to its starboard engine, but the fresh problems this weekend are with the port engine.
A spokesman for the firm said: "We apologise for the inconvenience and are doing everything can to get things back to normal. We thank our customers for their patience."