Trouble-hit Oban to Barra ferry sailing again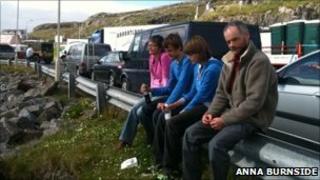 Hundreds of festival-goers reached Oban in the early hours of the morning from Barra after their ferry was hit by fresh engine problems.
People were left stranded on the island following Barra Fest, facing hours of delays.
The ferry, MV Clansman, had returned to the route after repairs to its starboard engine. The latest failure affected the port side engine.
Operator Caledonian MacBrayne apologised for the inconvenience.
A company spokesman also thanked customers for their patience.
However, festival-goers told BBC Scotland that had been anger and frustration among those waiting at the terminal at Castlebay, on Barra.
One festival said: "It's been a very long time. We're miserable and cold."
Another said that as his son was under 18 the local bar would not let them in.
The man added: "People are just stuck in their cars waiting. There is no mobile phone coverage so we can't even ring anyone."
The Clansman returned operations at the weekend after being out of service for a month, but broke down again.
After repairs were carried out on Sunday afternoon, it sailed for Castlebay in the evening and returned to Oban in the early hours of this morning.
The ferry has now sailed back for Barra and was expected to arrive at about midday.