Scotland's Housing Expo in Inverness opens its doors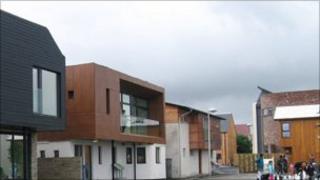 A month-long exhibition of eco-friendly housing designed by Scottish architects has opened in Inverness.
More than 50 properties have been built at Balvonie Braes, near Milton of Leys.
The project has been described as the first of its kind in the UK and is backed with funding from Highland Council and the Scottish government.
Not all the properties were completed in time for Sunday's opening and construction workers were on the site as visitors arrived.
Landscaping in front of several homes had also still to be completed.
The eye-catching development features various different designs and the properties will be offered for sale.
One of the main thrusts of the project was to encourage environmentally-friendly housing.
The Healthy House by Andrew Black Design has a predicted annual heating cost of £64.
Another low-carbon design, John Gilbert Architects' Timber House, has an estimated annual heating cost of £73.
The Shed House designed by Highland Council costs £213-a-year to heat and has displays on how to create a zero waste lifestyle.
A total of 35 students, most of them studying architecture or construction, have been appointed as guides to give visitors information on how each home was built.
Children, who can enter for free, can also collect cards from each of the properties which give an outline of the construction materials used and predicted energy consumption.
Last week, organisers said the credit crunch and bad winter weather had hampered building work.
A number of the houses on show have still to be finished and visitors cannot see inside them.
On Sunday, workers' boot prints were visible on wooden facings on one house and its kitchen was covered in plaster dust. Visitors were also warned to be wary of wet paint.
Mould and a discarded cheese snack was also found inside a turned off fridge-freezer in the Shed House.
An expo spokeswoman said the appliance had since been cleaned and would be replaced later.
She said: "The furniture recycling company that furnished The Shed has reported that it was deeply dissatisfied with the quality of the products delivered by their supplier and has already taken steps to exchange its goods for better quality products.
"In the meantime the fridge has been now been cleaned while a replacement is found."