£860,000 Gaelic study centre on Canna never used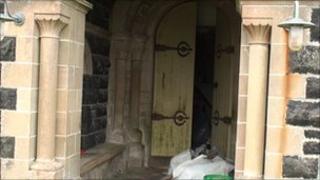 A church on Canna that was turned into a centre for Gaelic study at a cost of £860,000 has not been used since it opened in 2001, it has emerged.
Alasdair Ross McKerlich, the contractor who led the renovation work, said St Edwards Chapel had fallen into a serious state of repair.
An Oxford-based heritage charity raised funds for the project.
The island's owner, the National Trust for Scotland, claimed the building had never been wind and watertight.
The trust added that it was now responsible for the cost of remedial work to the church.
Heritage and conservation charity, the Hebridean Trust, said it raised funds for the renovation at the invitation of the National Trust for Scotland (NTS).
Mr McKerlich, of Badicaul in Kyle, said he was disappointed that the former Roman Catholic church had not been used.
He claimed parts of the building had been vandalised.
John Lorne Campbell and Margaret Fay Shaw, who gathered one of the largest archives of Gaelic culture, were the isle's former owners.
NTS now manages the island off Skye.