Search for Sound of Canna's rare marine life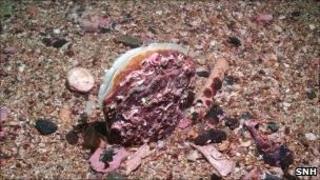 Marine biologists are to begin a survey of the Sound of Canna to confirm the presence of some of Scotland's most important wildlife.
Called priority marine features (PMFs), the species to be looked for include fan mussels, burrowing sea anemones, northern sea fans and seagrass.
Scottish Natural Heritage (SNH) said other sites around Scotland would also be investigated.
The isle of Canna lies off the coast of Skye.
Historic Scotland, the Joint Nature Conservation Committee and the Scottish government body Marine Scotland are also involved in the project.
The survey team will use video cameras to capture undersea footage and make detailed diver observations.
Environment Minister Roseanna Cunningham said the sea around Scotland provided habitats for some of the world's most precious wildlife.
She said: "This includes internationally important species and that is why efforts to increase our knowledge, such as those being undertaken in the Sound of Canna, are so important.
"This work will help identify the tremendous national underwater assets we have and enable us to get the careful balance between the growth of important new marine industries and our conservation commitments right."