Sand spit cricket held near Fortrose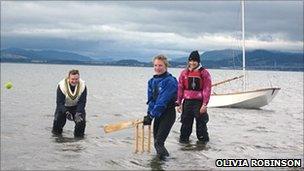 Members of a sailing club have played cricket on a sand spit that only appears every few years due to an extremely low tide.
The game took place in ankle deep water and recreated the first one held on the spit off Fortrose in the 1920s.
It was staged by Chanonry Sailing Club, whose members also enjoyed a barbecue.
The previous match in 2006 on Skate Bank saw the coastguard called out after people on shore mistakenly thought the players were in difficulty.
The club said the coastguard had been alerted in advance about the latest game in order to prevent a repeat.
Club member Olivia Robinson said sea water was thigh deep by the time people left the spit by boat following Thursday morning's match.
Crew from eight craft took part in the cricket, but also tried extreme ironing - where participants attempt to iron clothes in unusual places.
Ms Robinson said: "We stayed on Skate Bank for about half an hour.
"Some other people joined us out there. There was a 21st birthday party for someone with a cake and a candle, also a table set for a picnic and someone else brought a disposable barbecue.
"The bacon was more flamed than barbecued, but we'll let them off."
Related Internet Links
The BBC is not responsible for the content of external sites.