Two wintry journeys made in Scotland turned into art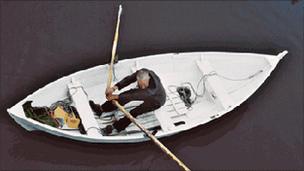 Two journeys made by boat during wintry weather earlier this year are the focus of a new exhibition in Glasgow.
Featuring film, photography, storytelling and poetry, Crossing Alba has been set up in University of Strathclyde's Collins Gallery.
It documents a stormy trip, dragged out over 40 hours, made on a small wooden yacht between Stromness to Stornoway.
Also illustrated is a quieter journey along the Forth and Clyde canal by rowing boat and barge.
Ian Stephen, a former coastguard living on Lewis, his son Sean and London-based photographer Emmanuelle Waeckerle sailed from Stromness to Stornoway.
They recorded their voyage in photographs, film and illustrated logs.
Poet Gerry Loose and photographer Morven Gregor travelled along the Forth and Clyde canal.
Their journey inspired images, poems, performances and log entries.
The travellers' Crossing Alba installation opens on 21 August.
Wintry weather late in 2009, and experienced again at the start of this year, was among the worst seen in years, according to the Met Office and police.
Heavy snow and freezing temperatures was blamed for road and rail accidents, closing airports and affecting wild deer chances of survival.
Related Internet Links
The BBC is not responsible for the content of external sites.