Highland schools' rubbish costs increase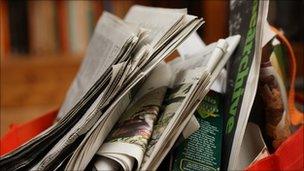 The cost of dealing with waste generated by schools in the Highlands has increased, according to council figures.
A 17% rise in the amount of rubbish from primary schools over 2009-10 compared to the previous 12 months also affected the authority's CO2 targets.
The cost of refuse collections from all schools has gone up steadily since 2007-08's figure of £446,572.
In 2009-10, the cost had climbed to £638,462.
An officers' report to Highland Council's resources committee said a 10% rise in the landfill tax was one of the factors behind the rising expenditure.
Secondary schools reduced waste by 4.13% in the last year, but the rise at primaries had contributed to a 3.71% increase in carbon emissions generated by council buildings.
Officers said primary schools had asked for help in tackling the issue.
A further report on how waste could be reduced and recycling improved will be presented to the authority's climate change working group next month.
Reducing rubbish is a priority for Highland Council.
Last September, it said moving refuse from Skye to a landfill site near Falkirk resulted in one of the costliest disposals in Scotland.
Related Internet Links
The BBC is not responsible for the content of external sites.