Caithness maternity ward cleanliness criticised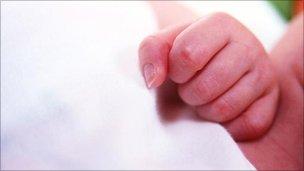 The standard of cleanliness in the maternity ward at a Highlands hospital needs to be raised, according to an infections control watchdog.
Mould was found in the showers at the unit at Caithness General in Wick and waste bins were dirty and rusty and baby changing mats stained underneath.
The Heathcare Environment Inspectorate (HEI) has recommended improvements.
However, it said the overall standard of cleanliness within the hospital was good.
The HIE reported that the majority of wards were visibly clean and patients inspectors spoke to said they felt their wards were clean and tidy.
NHS Highland has been asked to meet four recommendations for improvement - including better standards on the maternity ward where dust was also found on picture frames and shelves.
Health Secretary Nicola Sturgeon said she was pleased to learn that Caithness General had implemented measures to reduce the risk of infection.
She added: "There are, however, areas for improvement and I know that NHS Highland has put in place an improvement plan to address these concerns.
"The health board will now work with the inspectorate to reinforce public confidence."
HEI chief inspector Susan Brimelow said NHS Highland was complying with most standards aimed at protecting patients and staff from infections.
She said: "The overall standard of cleanliness within the hospital is good and the majority of the wards inspected were visibly clean.
"Environmental audits are being carried out, action plans produced and senior charge nurses have a good awareness of the audit results for their ward area.
"However, we did find that further improvement is required in some areas including the standard of cleanliness within the maternity ward."
Carena MacIvor, a lead nurse at NHS Highland, said action was taken to tackle the shortcomings identified in the maternity unit's cleanliness and they were dealt with on the day of the inspection.
She said the other issues identified had all been addressed.
Related Internet Links
The BBC is not responsible for the content of external sites.