Cloning technology suggested for Scottish wildcats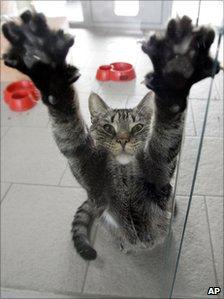 Cloning technology could be used to create Scottish wildcats if numbers of breeding pairs in the wild collapse.
The Royal Zoological Society of Scotland's Highland Wildlife Park confirmed the proposal was in the early stages of being discussed.
Talks have been held with the Medical Research Council's Human Reproductive Sciences Unit in Edinburgh.
A house cat-wildcat hybrid could be used to give birth to "pure wildcat kittens".
It has been estimated that 150 breeding pairs of wildcats survive in parts of the Highlands.
Disease, loss of habitat and inter-breeding with domestic cats have been blamed for devastating wild populations.
Douglas Richardson, animal collections manager at the wildlife park at Kincraig, told BBC Radio's Scotland Live programme that reproductive techniques were being considered.
Mr Richardson said: "It is another safety net if everything goes horribly wrong in the wild, which is a possibility.
"I think we need to be prepared to take advantage of all the technology that is potentially available."
Genetic material from wildcats has already been collected and stored at low temperatures.
Sperm or eggs from pure wildcats would be used in experiments involving domestic cats.
The Highland Wildlife Park has Scottish wildcats in its collection.
In July, the site's most recent kitten was introduced to the public.
The kitten's mother, Seasaidh, is one of the park's 12 wildcats.
Mr Richardson said at the time: "Like any kitten they are incredibly cute.
"Only this one, when you get up close enough, is about as cute as a roll of barbed wire."
Related Internet Links
The BBC is not responsible for the content of external sites.