Protection for seabed with Ice Age marks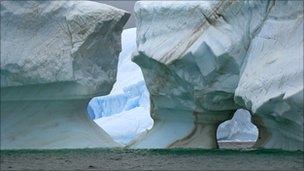 An area of seabed with a rocky reef gouged by icebergs at the end of the last ice age is to be given Special Areas of Conservation (SAC) status.
Wyville Thomson Ridge 111 miles (180km) north of Lewis has "plough marks" thought to have been left by massive blocks of ice.
North-west Rockall Bank about 205 miles (330km) west of St Kilda is also being given the designation.
The protection has been announced by the Scottish government.
The areas also feature in a UK package of habitats submitted to the European Commission for inclusion in its Natura 2000 network.
Protection for Wyville Thomson Ridge covers an area of seabed about the size of the Shetland Islands.
The other SAC extends to an area about the size of the Scottish Borders and the site provides habitat for cold water coral.
Rural Affairs and Environment Secretary Richard Lochhead said it was important to conserve the features and wildlife at the two locations.
He added: "Wildlife tourism annually brings in a net value of £65m to Scotland's economy and creates the equivalent of 2,760 full time jobs.
"As one of Europe's leading year-round wildlife destinations with a world famous reputation for natural heritage, Scotland has a great deal to offer."
Related Internet Links
The BBC is not responsible for the content of external sites.