Weather station data shed light on wet July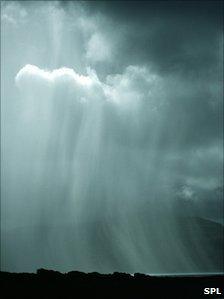 Newly-published data from Met Office weather stations have shed light on what made July the third wettest in Scotland on record.
Provisional figures have been released for the main month of the Scottish school holidays.
Parts of the country recorded high rainfall and little sunshine.
Data suggests Eskdalemuir in Dumfries and Galloway had 249mm of rain and 68.6 hours of sunshine - more rain and less sun than it had in the past 10 years.
Earlier this month, the Met Office said Scotland had its third wettest July on record in a series weather readings dating back to 1910.
Dumfries and Galloway was put on flood watch while the subject of a drought order application.
At the time, Scottish Water said it followed the driest first six months of the year since 1941.
The provisional data from Eskdalemuir showed 32.8mm fell in June, 36.6mm in May, 74.6mm in April, 153.6mm in March, 48.8mm in February and 71.3mm in January.
Dunstaffnage in Argyll also had its wettest July for the past 10 years with 177.2mm of rain, according to the recordings.
Tiree in the Inner Hebrides recorded 129mm of rain - again more than had fallen in July in any other year this decade. The island also had its lowest recording of sunshine duration since 2003 with 137.3 hours.
A weather station in Lerwick, on Shetland, also recorded the most rainfall for July in the past 10 years with 140.2mm.
However, the town had its most hours of sunshine since 2003.
Paisley, Renfrewshire, had its highest rainfall in 10 years with 131.7mm and its fewest hours of sun since 2002.
Leuchars, in Fife, recorded its wettest July since 2002 and Braemar in Aberdeenshire its most rain since 2007.
Stornoway, on Lewis, had its fewest hours of sunshine since 2005 - 105.8 hours - and second highest amount of rainfall. July, last year, was wetter.
Data for Wick, Caithness, shows last month and July 2009 were the wettest since 2002 - 88.2mm and 104.8mm.
The seaside town of Nairn, known as the Brighton of the North, had 140.7 sunshine duration hours - the lowest recording since 2007.
The recordings for this year are provisional until a full network quality control has been carried out by the Met Office.
Related Internet Links
The BBC is not responsible for the content of external sites.