Cromarty Firth test for Jumbo wings-sized wave device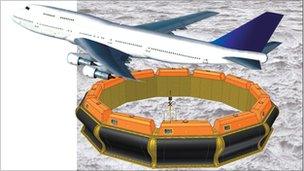 Early stage testing to develop a wave energy device measuring as wide as 747-300 Jumbo jet's wingspan is set to get under way in a Highlands firth.
AWS Ocean Energy will build one part of the machine, a full-scale pumping cell, and test it on the Cromarty Firth.
The Inverness company is already putting a smaller version of the doughnut-shaped machine - called AWS-III - through trials on Loch Ness.
The larger prototype will have a diameter measuring 60m (196.8ft).
It will have 12 air-pumping cells, or diaphragms, each powered by wave movement and driving an electric turbine. Tests on the cell are to start in the autumn.
Last month, the company and its project partner, the University of Strathclyde, received £350,000 from the Technology Strategy Board, to support the system.
The funding was part of a £7m package awarded to nine wave and tidal projects in the UK.
The firm said the AWS-III on Loch Ness has evolved from "forgotten" technology first seen in 1985 but later abandoned.
Related Internet Links
The BBC is not responsible for the content of external sites.