Inverewe's Jurassic tree grove endures wet summer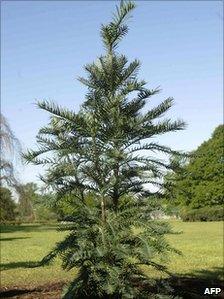 First it was sub zero temperatures, now what is believed to be the world's most northerly grove of a Jurassic tree has weathered one of the wettest Julys.
Wollemi Pine - thought to have died out two million years ago before being discovered in Australia - were planted at Inverewe Garden last June.
The National Trust for Scotland (NTS) site had its coldest temperatures in more than 30 years over the winter.
And last month was third wettest July in Scotland on record.
NTS said: "Despite an extraordinarily cold winter and a very wet summer, the pines are continuing to thrive."
The trust spokeswoman added: "They seem very at home at Inverewe and a few of them are now nearly 6ft tall.
"Visitors are very fond of them and we've just mounted new signs in the garden to tell people more about their remarkable origin."
The trees at Inverewe were cultivated from those found to have survived in a single isolated grove in Australia.
The discovery of the pine in 1994 caused a scientific sensation, and prompted the Australian government to protect the site where it was growing.
The pine was thought to have been extinct for at least two million years. The only previously known examples were fossils which were 175 million years old.
Park ranger David Noble found the trees in the Blue Mountains, west of Sydney, where the average rainfall in the mountains in 1,050mm and 850mm at lower levels.
Last year, Scotland had 1,767mm of rain.
Related Internet Links
The BBC is not responsible for the content of external sites.