Prosecution possible over radiation leak at Dounreay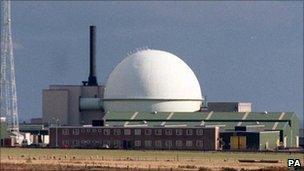 The operators of the Dounreay nuclear site in Caithness could face prosecution over a radiation leak last year which affected a group of workers.
Up to nine were understood to have been exposed to higher than expected levels of radioactivity while working with an intermediate level waste container.
The Nuclear Installations Inspectorate has confirmed that it was preparing a report for the procurator fiscal.
The inspectorate has also reported on a fire at the site in May.
It said the incident in the Prototype Fast Reactor was probably caused by poor housekeeping and poor segregation of materials.
Fire alarms alerted Dounreay's firefighters to the blaze when it broke out on 28 May.
The fire involved sodium which had earlier been removed from pipe work and stored in a small tented enclosure.
Dounreay Site Restoration Limited (DSRL), which runs the site, said at the time that radioactivity had not been a concern during what it described as an "industrial event".
One person who was in the building when the fire broke out left the scene immediately.
DSRL said the tented area involved was "the size of a small bathroom".
The sodium was transferred to metal drums and layered with graphex, a fire suppressing material.
Related Internet Links
The BBC is not responsible for the content of external sites.