Ocean sunfish spotted off Isle of Eigg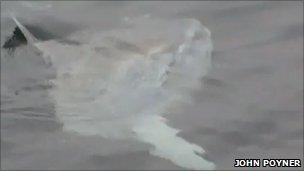 A rare sighting of an ocean sunfish has been made off the Isle of Eigg.
Wildlife tour guide John Poyner filmed the warm water species while he and another guide were taking tourists whale watching earlier this month.
Their cruise boat MV Shearwater stopped close to the sunfish in the sea between the island and Arisaig.
Eigg has won awards for its use of solar, wind and hydro power schemes to provide electricity to its residents' homes.
There are three species of sunfish with the most common being the mola mola.
Shoals have previously been spotted off the Cornish coast.
Mr Poyner, who works for Nethybridge-based Heatherlea Bird Watching, helps to take wildlife enthusiasts whale and dolphin watching off Arisaig.
He said: "We had been hoping to see minke whales.
"At first someone thought the sunfish's fin was a dolphin, but we quickly released it was this strange looking fish."
Mr Poyner managed to film the fish while it swam close to the surface.
Three years ago, a diver spotted a sunfish in Dornie Sound, off Achiltibuie.
Related Internet Links
The BBC is not responsible for the content of external sites.