Arctic region children get close to polar bear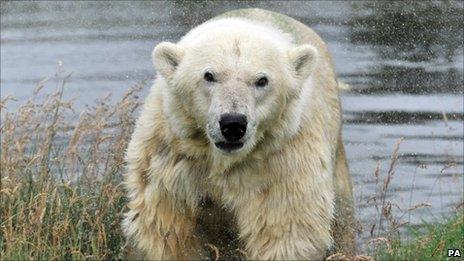 Children from the high arctic region of Canada have got up close to a polar bear for the first time - thousands of miles away in the Scottish Highlands.
The youngsters from Gjoa Haven saw Mercedes during a visit to the Highland Wildlife Park at Kincraig.
Back home, an alarm is raised if a polar bear comes within 3m (5km) of their houses and they must stay indoors until it is chased away.
Mercedes was taken from Canada to Edinburgh Zoo in 1984.
The bear was scheduled to be shot due to the risk she posed to residents of a nearby town that she roamed in search of food.
Mercedes was relocated to the wildlife park last October. The bear's enclosure allows visitors to watch it from several metres away.
Douglas Richardson, animal collection manager at the park, said: "It is often the case that polar bears come into conflict with human settlements and sensibly villagers in their native lands are extremely cautious should a polar bear be spotted, as they can be highly dangerous."
The children are in an exchange project with Fortrose Academy, near Inverness.
Related Internet Links
The BBC is not responsible for the content of external sites.