Pilot scheme offering lower cost ferry fares extended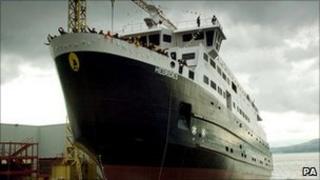 Lower cost ferry fares on journeys to and from the Western Isles will continue for at least another year, the islands' MSP has said.
The SNP's Alasdair Allan said the Scottish government had not been expected to make a decision until after next April when a pilot project ended.
Road equivalent tariff (RET) bases the cost of travelling on the equivalent distance by road.
VisitScotland has credited RET with boosting tourist visits to the isles.
Mr Allan said the scheme would now run until spring 2012.
He said: "As originally envisaged, the scheme would have run out in April 2011, with a decision on replacement not being taken until some months after that, during which the old pre-RET fares would have made a comeback.
"Thankfully, in spite of the huge pressures on Scotland's budget just now, the scheme has now been renewed for a further year.
"While ministers can't prejudice the results of the RET pilot study by committing yet to the longer term, I hope this is a positive indication for the future and makes the case for RET in the longer term."