Inverness campus offers major benefits, says Swinney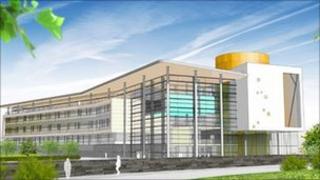 Finance Secretary John Swinney has said a campus proposed for Inverness would deliver major benefits to the Highlands and Islands.
He was chairing the first meeting of a forum set up to bring together all the partners in the project.
The site at Beechwood would provide a base for the prospective University of the Highlands and Islands (UHI), researchers and businesses.
Inverness College is to relocate to a £75m building at the campus.
There has been opposition to the plans from city centre businesses.
Inverness BID, a group helping lead improvements to the city centre, has said valuable income would be lost as hundreds of college staff and thousands of students relocated to an out-of-town site.
Mr Swinney said the campus would be important to the economy of the wider region.
He said: "The Inverness Campus is a significant economic opportunity for the Highlands and Islands and a clear demonstration of what can be achieved through close collaboration.
"The region is already home to a wealth of expertise in life sciences, and the campus will deliver major benefits as a premier business location, attracting international investment and boosting employment, while providing top-class academic facilities."
Highlands and Islands Enterprise (HIE) is leading the project.