Will Pentland Firth power surge benefit the local area?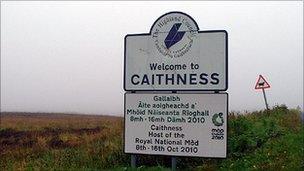 Its tide is one of the fastest in the world and orca hunt along its shores for young seals.
Now there are grand plans to harness the power of the fearsome tides and waves of the Pentland Firth.
Seven renewable energy developers have already leased 10 seabed sites off the Caithness, Sutherland and Orkney coasts from landowner the Crown Estate.
And an announcement is imminent on the company to investigate the potential for generating electricity in the firth's Inner Sound between Caithness and Stroma.
But will these projects lead to a "killer whale" economy for the north mainland coast, with local businesses being able to seize contract work and create new jobs and attract much needed investment?
Or, like the marine renewable devices planned to operate out of sight below the sea's surface, will there be little visible impact in an area already worried by job losses?
Senior figures and business leaders in Caithness have told BBC Scotland news online how the projects have stirred mixed feelings.
They said hopes have been raised about new jobs to replace those axed at the Dounreay experimental nuclear power plant, near Thurso.
The plant employs 2,000 people, which represents one in every five jobs in the far north.
But there are also doubts over exactly how much Caithness and neighbouring Sutherland will benefit socially and economically.
Highland Council wants Caithness and Sutherland to become a centre of excellence for engineering and marine renewables.
Wick councillor Bill Fernie said the Pentland power surge could save the north coast from dark days ahead - if first companies can overcome the challenges of working in one of the fastest tidal races in the world.
Mr Fernie said: "Undoubtedly jobs will be created, but the question is how many for Caithness and Sutherland?
"Jobs are already going at Dounreay as the decommissioning work runs down, but hopefully this is taking place as a newly developing industry emerges.
"It seems like suddenly, Caithness and Sutherland have become important as an energy supplier with plans for the firth, 200 offshore turbines planned for the Moray Firth and an oil company here landing oil from fields offshore on land - one of only a few in the UK to do so."
He added: "For me this comes almost in the nick of time and could avoid the area having a catastrophic economic decline."
Trudy Morris, chief executive of Caithness Chamber of Commerce, said the marine energy plans have sparked excitement but also "a lot of scepticism".
She said: "It is difficult to try and gauge the benefits right at this moment.
"I think the original fear was of large companies coming in and we would not see any benefit locally."
She said great work was being done at North Highland College's Environmental Research Institute (ERI) and by local firms, such as West Mey-based Energy Hunt and a survey boat working out of Wick.
Ms Morris said: "We are working hard to get into the supply chain of these marine developments.
"We have the fabrication capability here, but we are also geared up to do the operation and maintenance."
She added: "Both sides of the firth will complement each other and will not be in competition. We have a different mix of skills to be utilised."
The race to design giant marine devices could also spark the imagination of local youngsters.
Caithness already has about a hundred Science, Technology, Engineering and Mathematics (Stem) ambassadors.
Pat Kieran, chairman of the British Science Association Caithness branch, said it was probably the highest proportion in the country.
He said: "We are truly on the brink of a really exciting new chapter in the history of the area and we should sell this excitement to the youngsters of the county, from an early age.
"The primary ones of today will be the engineers of 2025.
"Dounreay will be on the wane but offshore energy will be taking its place and we must try and keep the emerging talent in the county by creating opportunities at every level."
The senior design engineer added: "Scientists and engineers will be working hand in hand, in years to come, to determine the limits of what can be done with the huge offshore energy resource and the techniques of how to safely and reliably extract that energy.
"There are a lot of problems to solve, but that's what we do."
Work has started on trying to prepare Caithness and Orkney ports for a renewables revolution.
On the islands, Hatson and Lyness are being upgraded.
Scrabster, near Thurso, was earlier this week promised £2m from the UK government.
Energy and Climate Change Minister Chris Huhne committed the funding towards the first phase of a major planned redevelopment of the harbour.
The port's operators aim to have underwritten the £25m cost of the whole project by the end of the year.
There are also proposals to expand Wick.
Amid this gearing up, jobs have already gone or are going in Caithness.
Woolworths stores in Thurso and Wick were among 815 shops that closed after the chain went into administration with debts of £385m.
A clothing firm that took them over also went into administration.
Dounreay Site Restoration Limited (DSRL), the largest employer at the nuclear plant, is cutting 102 jobs this year and plans to shed a further 80 posts by 2013.
Davey Alexander, chairman of the trade unions group at DSRL, said unions were hopeful but cautious about forecasts of renewables jobs easing the pain.
He said: "Hopefully there will be some spin-off for us up here.
"Workers here are highly skilled and, with some training, could go into the different areas that are being looked at.
"There are hopes about some form of manufacturing, but devices such as wind power are manufactured abroad and brought to here by boat, or road."
Synchronising job loses at Dounreay with the creation of new posts in renewables is an aim.
Eann Sinclair, programme manager at Caithness and North Sutherland Regeneration Partnership (CNSRP), said: "I think at the moment it is realistic.
"The decommissioning process, unlike most large scale industrial closures, is taking place over a long period of time.
"The decline of staff levels can be planned and it also allows us to plan better the employment profile for renewables."
Mr Sinclair said the far north has so far hosted 70 visits by companies interested in the area's marine energy potential.
Johanna Yates, marine and hydro policy manager at industry forum Scottish Renewables, said trying to generate electricity in the firth would be challenging.
She said: "The areas that these people are looking in both for tidal and wave are areas normally avoided for construction."
But she added: "It is an amazing opportunity for Scotland.
"We are certainly world leaders for the wave and tidal industry and it would be best to keep it that way."
Scottish Renewables forecast wave and tidal ventures could create more than 5,000 jobs in Scotland - many in rural coastal areas of the Highlands and Islands.
The Crown Estate also expect new employment for communities along the firth.
Development manager John Robertson said: "The 10 wave and tidal energy projects - the world's first programme of commercial marine power - have the potential to attract significant investment to Orkney, Caithness and North Sutherland, creating long-term, highly skilled, secure local jobs."
Permission to install any devices and generate electricity will have to be sought from the Scottish government.
None of the leased sites have such consent at this stage.
But wave and tidal are two of the sockets the Scottish government wants to plug the UK's electricity needs into.
Across the firth, Orkney is already reaping the benefits from the testing of wave and tidal technology at the European Marine Energy Centre (Emec), according to a senior island councillor.
Ian Johnstone, chairman of Orkney Islands Council's economic and regeneration committee, said the potential for the firth's coastal communities was huge.
The councillor for Stromness and South Isles said: "Now that some of the devices are being deployed at Emec we are seeing quite a lot of work for divers and boat handlers.
"At Stromness for instance a jack-up barge was in our town for about three months last year while they were doing work deploying a device."
"Figures have been produced showing an estimated £1m was spent locally during that time."
He added: "That jack-up barge for most of the time had 15 to 20 employees on it doing various shifts.
"These workers had to be fed, were going to pubs, shops, using swimming pools so there was a substantial economic benefit."
Mr Johnstone said this financial boost was from just one device - hundreds could be installed if all goes to plan leading to spending running to hundreds of millions of pounds.
The councillor said: "That is the prize we are fighting for."
Related Internet Links
The BBC is not responsible for the content of external sites.