Objection to zoo licence for wild animals 'unlikely'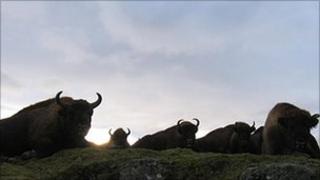 A group representing the interests of walkers and climbers said it was unlikely to protest against an estate's plans to introduce wild animals.
Alladale Estate in Sutherland is applying for a zoo licence for Scottish wildcat, elk and European bison.
The Mountaineering Council of Scotland had concerns the animals' enclosures would affect access to estate land.
However, after looking at the licence application it said this was not expected to be an issue.
The licence is connected to a planning application for the enclosures.
On its website, the mountaineering council said it would be submitting a comment to Highland Council on the application.
But the organisation added: "Based on the current application and the fact that we can only make comment on aspects that impact upon mountaineers, we are unlikely to make a negative response."
In May, Alladale Estate shelved a plan to introduce four wolves from Romania into a secure area.
The proposal was dropped in the interests of the animals' welfare.
General manager Hugh Fullerton-Smith said at the time that it was still the long-term ambition of the estate to introduce wolves, but into a much larger area.
In February, the estate had its licence to keep 17 wild boar and two European elk renewed.
Caithness, Sutherland and Easter Ross licensing committee unanimously approved the application.