Sherlock Holmes violin set to be played on musical tour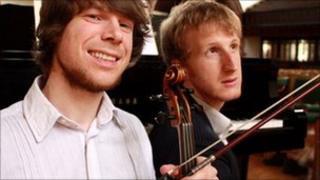 A violin with connections to Sherlock Holmes author Sir Arthur Conan Doyle is to be taken on a tour of the north east and Highlands.
Called the Sherlock, it was carved from the wood of a diseased tree from the garden of a cottage in Edinburgh where the writer spent part of his childhood.
Musician Feargus Hetherington will play the violin at concerts in Elgin, Fortrose and Dornoch.
The tour starts next Wednesday in Dunkeld.
Mr Hetherington will be accompanied by Will Pickvance on piano.
Funds raised at the concerts will be handed over to local schools and charities to help give young people opportunities in music.
The instrument was made as a tribute to Conan Doyle's creation, Sherlock Holmes, who played the violin while solving cases.
It was created last year by Edinburgh instrument maker Steve Burnett from the wood of a 175-year-old diseased sycamore.
The violin was completed in time to celebrate the 150th anniversary of the author's birth in May 2009.
On Tuesday, it was handed into the care of the University of Edinburgh's instrument collection.
The first performance of the tour will be held at Dunkeld Cathedral. Perthshire fiddler Pete Clark will also make a guest appearance at the concert.
Concerts will follow in St Giles Church, Elgin, on Thursday, Fortrose Community Theatre on Friday and Dornoch Cathedral on Saturday.
The violin was played on BBC Radio Scotland's Music Cafe by host Bruce MacGregor and the show is available to listen again on the BBC iPlayer.